This item runs exclusively on an operating voltage of 230 V and therefore requires a voltage transformer to run in your country of United States.
Tube Head
Preamp based on the classic 1959 SLP

1 Channel with 4 separate inputs

Power: 20 W with power reduction to 5 W

Tubes: 2x ECC83, 1x ECC83 (Phase Splitter), 2x EL34

DI out

Serial FX loop

Dimensions: 500 x 240 x 230 mm

Weight: 9.25 kg
Available since
March 2019
Power Amplifier Tubes
EL34
The legendary Plexi sound in a small package
The Studio Vintage 20H delivers the legendary look and sound of Marshall's "59" Plexi amps in a compact format that is quiet enough for bedroom use. The power stage of this 20-watt head is equipped with two EL34 tubes and can be switched down to five watts in low-power mode, allowing players to enjoy classic Plexi tones even at low volume. Compared to its bigger brother, the Studio Vintage 20H has been expanded to include a few extras, including a switchable effects loop and a DI output with cabinet simulation for direct recording without the need for cabs and microphones. Speaking of cabs: Five speaker outputs which cover the commonly used impedance values are provided on the amp's rear panel. All the same, the amp has still retained the original's four separate inputs (two each for Normal and High Treble), which like those of the original can be bridged using a patch cable to suit the instrument and the player's preference.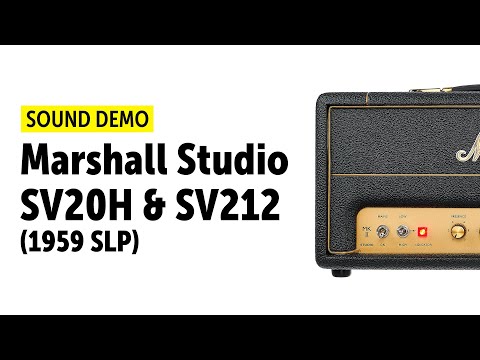 The real deal
The sound of the Marshall Plexi is an indelible part of Rock music history that has been heard on countless albums (who hasn't heard the legendary tones of players like Jimi Hendrix, Yngwie Malmsteen, and Eddie Van Halen?) and the SV20H delivers precisely this sound and character – not quite as loud, admittedly, but still with enough power to hold its own in the rehearsal room and on stage. The output power can be "throttled" from 20 watts to five watts via the three-position standby switch, which makes it possible to enjoy authentic Plexi sounds at moderate volume even with the two channels' volume controls cranked as high as they will go. The amp's three-band EQ section, complete with a Presence control, provides additional options for effective tonal adjustment, while the series effects loop allows modulation effects to be seamlessly integrated into the signal path.
A worthwhile alternative for pros
The original 100-watt Plexi amps are legendary, but their weight and size mean that getting them from A to B can be a nightmare. On top of that, the immense power that these amps have in reserve is seldom needed and serves only to annoy the rest of the band in rehearsal and the sound engineer during live gigs. This is where the SV20H comes into its own, combining the authentic tone and outstanding dynamics of its bigger brother with a significantly more manageable weight and more compact dimensions. Measuring just 500 x 240 x 230 mm and weighing scarcely more than nine kilogrammes, this diminutive powerhouse is easy to store away and can be set up quickly for a performance on stage or, with its DI output routed to the mixing desk and low power mode activated, for a recording session in the studio.
About Marshall
Marshall, the manufacturer from Milton Keynes in Great Britain, is an indispensable figure in the world of electric guitar. The tube amplifiers of company founder Jim Marshall († 2012) have been writing Rock music history since 1962 with names like Pete Townshend, Jimi Hendrix, and Eric Clapton. The classics of the JTM, JMP, and JCM 800 series are still highly sought-after today, as they shaped the sound of overdriven and distorted electric guitar more than any other product. To this day, the combination of the amp and 4x12" cabinet - the "Marshall stack" - is synonymous with the energy and power of the Rock music genre. Alongside these landmark achievements, however, Marshall has always kept its finger on the pulse of the times and a close eye on the needs of up-and-coming musicians.
From bedroom to stage
When paired with a sufficiently large speaker cabinet, the Marshall SV20H is easily up to the task of getting heard at live gigs and will cut through perfectly in a band context – but it will make an equally good impression when switched from 20 down to five watts and connected up to a small cab, allowing you to enjoy all the delights of that classic Plexi sound in your living room. Whether you are playing Blues, Rock, or adding a boost pedal to play Metal, the SV20H is a true Marshall Plexi that continues the illustrious tradition while also adding a few useful extras.
This is what customers who viewed this product bought