E-Drum Complete Set
408 Voices

30 Preset kits

10 User kits

80 Songs

5 User Songs

Metronome

Required floor space: approx. 120 x 80 cm

Includes drum rack, pedal, power supply, cabling and sticks
Set configuration:
1x 10" Two-zone mesh head snare pad

3x 08" Mono mesh head tom pad

1x 08" Mesh head bass drum pad

1x 12" Mono crash cymbal pads with stop function

1x 12" Mono ride cymbal pad with stop function

1x 10" Hi-hat pad

Hi-Hat controller
Connectors:
2x 6.3 mm jack main outputs

1x 3.5 mm stereo jack headphone output

1x 3.5 mm stereo jack line input

2x 6.3 mm mono jack trigger inputs

USB MIDI

MIDI out
Available since
June 2019
Sounds to suit every taste
The Millenium MPS-450 E-Drum Set is priced in the middle entry-level and offers a lot of features for the money. All of the drum pads, including the bass drum, are equipped with mesh heads, which go easy on the wrists and keep the playing noise at a pleasingly low level. Neighbourly peace is therefore guaranteed, and with 408 authentic sounds and 80 play-along songs, every drummer will find the right sounds and styles. The developers have equipped the MPS-450 with a "Coach Mode" that includes numerous training functions to ensure ongoing fun while practising.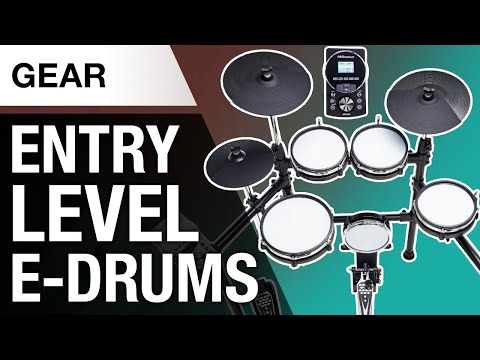 A great deal of features plus some extras
The robustly constructed, eight-piece kit has everything you need for drumming and can even be expanded when needed using two additional trigger inputs. 30 preset drum kits cover the sound range of the set, while 10 user kits can be configured at will and equipped with your own desired sounds. Five song memory slots are available for recording your own ideas. Special features include the convenient jog wheel, the graphics-capable display, and the cool double bass function, with which you can play fast double or triple bass figures with just one pedal. USB and MIDI interfaces are also on board, so that the MPS-450 also works smoothly when connected to a computer.
A successful start to drumming
The Millenium MPS-450 is the perfect choice for beginner drummers who value an indestructible construction, ideal playing comfort, an authentic playing feel, and a huge selection of sounds. Six dynamic curves allow you to adapt the kit to your personal style, and the almost endless list of sounds includes acoustic drum sounds in abundance, all popular electro sounds, melody instruments (marimba, timpani, etc.), 100 percussion sounds, and some special effects on top. There is always something new to discover here, which guarantees drumming fun for many years on end.
About Millenium
Millenium is one of Thomann's in-house brands and has been an integral part of the store's range since 1995. More than 800 products – from drums and percussion through to accessories such as microphone stands, racks, and recording workstations – bear the Millenium label. These products are made by renowned companies who also manufacture products for other well-known brands. Since they are imported directly from the factory without any further distributors or sales companies, they can be sold at particularly attractive prices. Incidentally, one in every four Thomann customers has already purchased at least one Millenium product.
Enjoyable practice is guaranteed
As a solid and reliable home practice kit, the MPS-450 does an excellent job. The rich selection of high-quality sounds is a true source of inspiration and thus promotes your creativity. The coaching section includes a variety of exercises that incorporate all important aspects of drumming such as timing, accuracy, and dynamics, while the graphic display makes inaccuracies visible, which is extremely helpful for effective practice. Moreover, playing on mesh heads is the ideal preparation for playing on an acoustic drum set.
This is what customers who viewed this product bought