This item runs exclusively on an operating voltage of 230 V and therefore requires a voltage transformer to run in your country of United States.
Dj Controller
Full-featured 2 deck Smart DJ console with 7" touchscreen and onboard Wi-Fi

Rechargeable lithium-ion battery for up to 4 hours of performance without power source

Built-in speakers

Supported music streaming services: Amazon Music Unlimited, TIDAL, Beatport, Beatsource, SoundCloud Go + and Dropbox

Engine OS player with 2x USB and 1x SD media ports

Dual-bank performance pads for triggering hot cues, loops and rolls

6" Jog wheels with Smart Scratch feature

Internal analysis of music files & Rekordbox TM collections directly from USB

Standalone track preview to preview songs before loading

3-Band EQ and filter/sweep effects

6.3 mm combi XLR microphone input with level control

Dimensions (W x D x H): 566 x 284 x 74 mm

Weight: 4.2 kg
Controller type
All in one
incl. software
Denon Engine
Stand Alone Mixer Function
Yes
Storage Medium
SD Card, USB to Device
DJing with total freedom
The Numark Mixstream Pro Go is a comprehensive, portable two-channel DJ controller that is battery-powered and features built-in speakers and a wireless lighting control, which allows it to serve as a stand-alone solution without a laptop. It can be used to play music from USB devices and SD cards, while its onboard WiFi also provides access to a range of popular streaming services, and up to approximately four hours of operation are possible on a single battery charge. The Mixstream Pro Go's control interface with its 7" high-resolution touchscreen, touch-sensitive 6" jogwheels, eight performance pads, and numerous buttons gives DJs everything they need for professional-level performances on the go.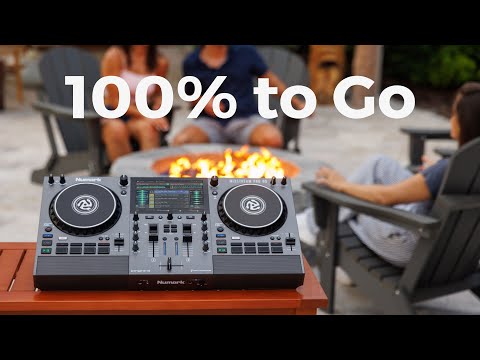 Versatility at its best
The Numark Mixstream Pro Go is robust enough to go anywhere DJs might want to perform, and its four onboard speakers - which have a frequency response of 20Hz to 20kHz - are easily loud enough for practising at home, putting together playlists in a hotel room, or kicking out some jams by the pool. The jogwheels are large enough for proper scratching techniques to be used, while the Smart Scratch feature ensures that the music always stays on beat afterwards. What is more, the Mixstream Pro Go's lighting control can be used in conjunction with smart home lighting systems like Philips Hue and Nanoleaf to create automated light shows, and the controller is also compatible with Soundswitch lighting controls for DMX lighting systems. The rear panel features an SD card slot and two USB slots that can be used to play music and record the user's mixes. A USB type B socket is also provided, so DJs can connect the Mixstream Pro Go to a laptop and use it as a software controller for Serato DJ or Virtual DJ.
"Ghetto blaster" redefined
Up-and-coming DJs will find a partner for every imaginable situation in the Numark Mixstream Pro Go - and one that can work without needing a computer, a mains power supply, or even a PA system. Professional users will doubless appreciate the unit's compact dimensions, which make it a great preparation tool for use on the go and for after hours at the hotel or on the tourbus, and wedding DJs have an endless choice of music at their disposal thanks to the Mixstream Pro GO's numerous streaming options. Hiphop DJs in turn can also rap along with the MC thanks to the Mixstream's microphone input. All of these things together combine to create a DJ console that combines unsurpassed compactness, portability, and performance with the street power of an old-school ghetto blaster.
About Numark
Numark, based in the US city of Cumberland, Maryland, was founded in 1971 by Harry and Robert Kotovsky. Numark's professional DJ equipment became popular from the outset and the company instantly gained the reputation of being a leading manufacturer in the DJ industry. Numark quickly proved what the company's focus would be: Innovation and technology. Many of its now older products, such as the DM1775 mixer or the CD5020 dual CD player are still prominent in the industry today. Their conception already reflected Numark's ability to be a pioneer in terms of functionality and design in the DJ sector. Following in these footsteps, the DMC-1 was the first DJ software controller to hit the market, and was soon to be followed by many more.
A minority of one
The Numark Mixstream Pro Go comes with the Engine DJ software embedded, which allows the user to easily import playlists from a range of programmes, including Traktor and Serato, via WiFi or USB, while grids, hot cues, and loops can be created and adjusted on the device itself. The user interface with its two-channel mixer, three-band equalisers, effects toggles for the four integrated effects, and last but not least the four performance pads with cue, saved loop, autoloop, and roll function allows professional DJing with spectacular effects, and the Numark Mixstream Pro GO has a surprising amount of power on tap as well, all of which puts this diminutive console in a league of its own, whether it is used in the club or out in the open.
In the spotlight:
Streaming service access
Nowadays, listening to music via streaming services like Spotify and Apple Music using our smartphones is as natural to us as breathing. The same technology is now finding its way into the DJing world, with more and more providers finding solutions to the licensing issues that surround public music performances. The Numark Mixstream Pro Go gives users access to a particularly wide selection of streaming services thanks to its WiFi connectivity, so DJs have access to the inexhaustible palette on offer from TIDAL, Beatport, Beatsource, SoundCloud Go+, and Amazon Music Unlimited (subject to the necessary subscriptions), so anyone who doesn't yet have their own digital music collection can use streaming to jump straight into the game. An interesting feature for professional users is the option of streaming from their own Dropbox, which means they can access their music from anywhere in the world. The wonders of technology at work!
This is what customers who viewed this product bought