Cajon
Black Edition

Selected birch wood body

Playing surface made of selected German birch wood

Detachable snare head

Non-slip seat

Simple snare sound control

Rich sound with a bass emphasis

Dimensions (H x W x D): 50 x 30 x 30 cm

Made in Germany
Impact surfaces material
Birch
Variant group
Schlagwerk CP Cajon
A sonorous wooden box - Made in Germany
The Schlagwerk CP404 "2-In-One" Cajon, which is made in Germany, has been the standard among the budget Cajons for many years, and is particularly interesting for beginners thanks to its tonal flexibility. A birch wood body combined with a playing surface made of the same material are the external features, while the detachable snare head makes various sound characteristics possible.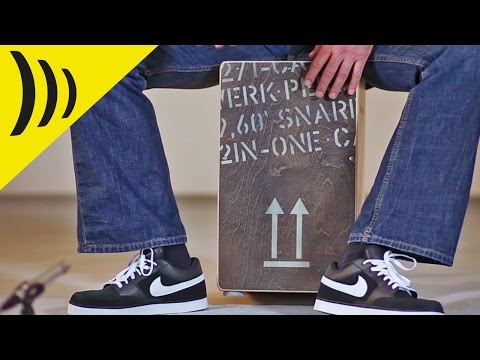 The CP404 Cajon is a true all-rounder
Designed in the style of a vintage tea chest, the CP404 Cajon has a high recognition value. The instrument is a snare cajon, which can be transformed into a classic Peruvian Cajon in no time by removing the internally installed traverse, to which two short 20-spiral carpets are attached. The body is made out of eight layers of birch wood and an impact surface available in different colours, while four rubber feet ensure a secure base.
The band in the living room
The Schlagwerk CP404 Cajon offers aspiring drummers the opportunity to easily immerse themselves in the world of rhythms: Just take a seat and drum away! All you need are your bare hands to create sounds which harmonize perfectly with acoustic guitars, piano, and other acoustic instruments, making the cajon the ideal accompanying instrument for home sessions. The CP404 feels equally at home on the stage at unplugged gigs, and these wooden boxes are also loved by children and enable them to be playfully introduced into the world of making music.
About Schlagwerk Percussion
Schlagwerk Percussion was founded in 1982 by Gerhard Priel and Bengt Schumacher and initially produced log drums, temple blocks, and various percussion effect instruments. The first cajons were developed in the late 1980s, and included the "Cajon la Peru", which became the first "success story" for this type of instrument. However, it was not until the early 2000s that the final breakthrough really occurred, and since then Schlagwerk has played a leading role in the cajon sector. Since 2009, the manufacturer has also been providing a wide range of cajon accessories. The best-selling instrument is the CP404 Cajon, which was introduced in 2005 and is now available in different versions.
The smallest drum kit in the world
As a kind of "mini drum kit", the CP404 is the perfect choice for small locations where an acoustic drum set would be too loud. Many drum grooves can be easily transferred to the cajon, and there are now many options available to expand cajons to include even more sounds. With the help of special pedals, even the player's feet can now be used to create sounds, which makes the range of possible applications even more diverse.
This is what customers who viewed this product bought