Headphones
Dynamic

Open

Circumaural

Impedance: 300 Ohm

Sound pressure level: 97 dB

Frequency range: 12 - 39,000 Hz

Two-sided cable routing

3 m Cable with 3.5 mm jack connection

Weight without cable: 253 g

Weight with cable: 309 g

Includes 6.3 mm jack screw adapter
Available since
September 2019
Frequency range
12 Hz – 39000 Hz
Type Of Connector
Mini Jack
Wide frequency range and neutral sound
The Sennheiser HD 600 is a pair of elegantly designed, open-back hi-fi headphones with an over-ear design and computer-optimised drivers that is manufactured in Ireland in accordance with stringent quality standards which include the selection of optimally matched driver pairs. This modern classic boasts an impressive frequency range that goes from 12Hz up to 40.5kHz – beyond the normal audible range of the human ear at both ends of the spectrum – and clearly demonstrates Sennheiser's commitment to offering premium products. The tonal neutrality of these headphones leaves the audio signal so unaltered that, according to Sennheiser, it is as if the HD 600 disappears from the signal chain once the user presses "Play".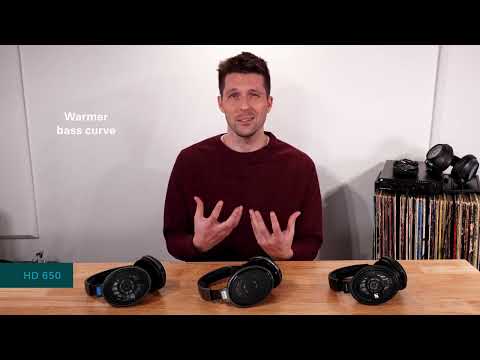 Clear as a bell
As well as delivering a particularly high level of acoustic transparency and clarity as a result of their open design, the Sennheiser HD 600 headphones also keep non-linear distortion levels as low as 0.1% and make a convincing case thanks to numerous other details, including their handmade 42mm drivers with aluminium voice coils that allow both a rapid transient response and short decay phases. With a sound pressure level of 97dB, these headphones admittedly cannot be considered particularly loud, and their impedance of 300 ohms means that they will need to be connected to a power amplifier with a correspondingly high output voltage.
For those who just can't stop
The Sennheiser HD 600 equipped with soft circumaural velour pads are the perfect fit for users looking for headphones that are comfortable to wear over long periods of time, and their modular design, which ensures easy maintenance over many years, is sure to find favour with headphone enthusiasts who value the advantages of a long-life product. These headphones feature a replaceable cable with two-sided routing, which of course means that they may not be the best choice for those who are used to the freedom of movement provided by designs with single-sided cable routing – for home use, however, this consideration should not be too critical.
About Sennheiser
In June 1945, Prof. Fritz Sennheiser founded the Wennebostel Laboratory, which initially produced measuring equipment. Commissioned by Siemens in 1945, the young company developed the MD-1 microphone, which was launched in 1946. After the development of further microphones, the company was renamed Sennheiser Electronic in 1958. Two years later, Sennheiser introduced the MD 421 dynamic microphone, which is still in production today and still held in high esteem by many sound engineers. Further groundbreaking developments, such as the HD 414 headphones and the MD 441 microphone classic, hugely enhanced the company's international reputation, eventually making Sennheiser one of the leading manufacturers of microphone and headphone systems in the world.
For home, HiFi, and professional use
Thanks to their weight of just 260g without the cable, the Sennheiser HD 600 headphones are comfortable to wear even for hours on end, and the listening pleasure they offer goes beyond home hi-fi applications: According to the manufacturer, these headphones can additionally be used as a reference for both professional audio playback and as a standard for analytical signal evaluation, which means that mixing engineers can also give them serious consideration. What is more, the threaded 6.35mm jack adapter can be removed to reveal a 3.5mm mini-jack connector, making the HD 600 headphones suitable for day-to-day use with smart devices and home entertainment systems, provided that these have a sufficiently high output level.
This is what customers who viewed this product bought