Headphones
Dynamic

Open-back

Impedance: 300 Ohm

Sound pressure level: 103 dB

Frequency range: 10 - 41,000 Hz

3 m Cable with 6.3 mm stereo jack plug

Weight without cable: 269 g

Weight with cable: 346 g

Includes 20 cm adapter cable from 6.3 mm to 3.5 mm jack plug
Available since
September 2019
Frequency range
10 Hz – 41000 Hz
Type Of Connector
Jack, mini-jack
Open-backed design for increased enjoyment
The Sennheiser HD 650 is a dynamic, open-backed headphone model that is manufactured in Ireland and combines a streamlined design with a richly-detailed sound reproduction in order to set a new standard in sound quality and listening enjoyment. Sennheiser's unwillingness to compromise is reflected in the HD 650's frequency response, which goes from an ultra-low 10Hz up to an impressive 41kHz, and the drivers are hand-paired according to detailed measurement values in order to provide the most exact match between the left and right channels, thus enhancing the sound quality even further and delivering a particularly homogenous response.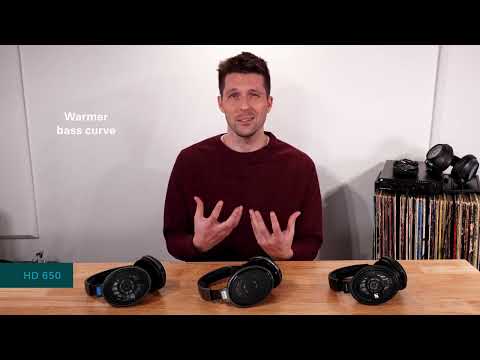 Easy to service and a solid investment
The Sennheiser HD 650 headphones are designed to allow components to be replaced when required, so users can be sure that they have invested in a set of headphones that will be with them for a long time. The 42mm transducer features a 38mm diaphragm with an aluminium voice coil that allows a broad and natural-sounding frequency response with less than 0.05% non-linear distortion. With a maximum SPL of 103dB and an impedance rating of 300 ohms, the Sennheiser HD 650 is admittedly not one of the loudest models available, so a headphone preamp will be required in operation. The detachable cable is made from highly conductive OFC copper and optimally matched to the headphones to provide the best impedance, while its 3m length gives the user enough freedom of movement both in the studio and in the home recording environment. And the scope of delivery additionally includes a 20cm adapter cable with a 3.5mm mini-jack connector for those who want to use the Sennheiser HD 650 in combination with smart devices.
For studio users and hi-fi afficionados
Thanks to its expertly balanced acoustics, the Sennheiser HD 650 reproduces the subtle details in the music that many other headphone models in the audio production sector leave undiscovered, which makes the HD 650 an ideal tool for professional studio operators. Audiophiles on the other hand can look forward to both a high-resolution sound and a well-balanced frequency response that does not excessively boost the treble frequency range. The open-backed design of the Sennheiser HD 650 also allows the sound to "breathe" properly, while the low-resonance construction of the earcups in turn allows the sound waves to expand in a correspondingly natural manner.
About Sennheiser
In June 1945, Prof. Fritz Sennheiser founded the Wennebostel Laboratory, which initially produced measuring equipment. Commissioned by Siemens in 1945, the young company developed the MD-1 microphone, which was launched in 1946. After the development of further microphones, the company was renamed Sennheiser Electronic in 1958. Two years later, Sennheiser introduced the MD 421 dynamic microphone, which is still in production today and still held in high esteem by many sound engineers. Further groundbreaking developments, such as the HD 414 headphones and the MD 441 microphone classic, hugely enhanced the company's international reputation, eventually making Sennheiser one of the leading manufacturers of microphone and headphone systems in the world.
For editing, mastering, or simply listening
As mentioned above, the Sennheiser HD 650 is designed to provide a balanced response with no over-emphasis of any specific frequency range, which makes for hours of fatigue-free listening even during extended sessions and makes this model a great choice for studio operators looking to finely polish their audio material. What is more, the headphones are equipped with soft velour ear cushions and weigh just 269 grams without the cable, so they are light enough to be worn for long periods without becoming uncomfortable. Mixing engineers can thus also easily use these headphones for jobs that can take up their entire day. The manufacturer calls the HD 650 a reference model for making analytical signal assessments, which makes it a suitable aid for recording engineers that can even provide a highly detailed sound for mastering. And it goes without saying that these headphones promise to make simply listening to music a highly enjoyable experience.
This is what customers who viewed this product bought