Guitar Effect
Reverb

12 different studio class reverb machines, Rooms, Reverbs, Plates and Springs

300 programmable user presets

Press-and-hold sustain and Freeze function (infinite)

Extreme settings

Fully controllable by midi

Ultra low noise 24-bit 96 kHz converter

Controller for: Decay, Pre-Delay, Mix, Tone, Mod, Low end, Mid and Size

LED status display

Patch display

Stereo input and output

Toggle switch for feedback loop

Expression pedal input (can be saved and controlled)

Incl. 9V power supply (female DC)

Made in USA
Available since
October 2013
input/output configuration
stereo in / stereo out
Deluxe reverb
Reverb users asked, and Strymon has delivered with the Big Sky. This feature-packed pedal gives users who want more than just spring reverb but don't want to lug a 19" rack unit around with them an effect processor that provides everything from understated room reverb through to soundscapes worthy of a sci-fi movie. However, the Big Sky has more than just authentic spatial reverb simulations in its repertoire - it also offers an impressive range of options for the user to shape their own sounds. With its high-quality 24-bit/96kHz converters, stereophonic inputs and outputs, MIDI capability, and comprehensive storage options, Strymon has packed this pedal with all the functions found in a studio device. The Big Sky additionally boasts convenient real-time control via eight rotary dials and a selector knob, and an optional expression pedal can also be connected.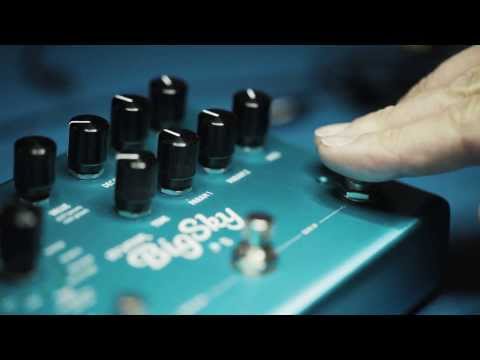 High-tech features in pedal format
At the heart of the Big Sky is a high-speed SHARC signal processor that is capable of a high computation depth and can thus create highly detailed emulations of artificially generated reverb types, including "spring" and "plate". Strymon has not dedicated all of this processing power to a single effect chain, however, but rather fully devotes all twelve algorithms to a specific effect in each instance. Alongside conventional simulations of different room sizes/shapes, the range of options also includes explicitly creative algorithms, non-linear sounds, modulated reverb tails, and pitch shifting. The Big Sky's sonic palette even includes the reverberant sound of drum echos. Of course, the pedal's sound quality also leaves nothing to be desired, as it delivers fully stereophonic signal processing, AD/DA conversion at 24 bit/96kHz, and a high-quality signal path for the dry signal that is not converted when the pedal is in bypass mode.
Performance and creativity
The Big Sky puts spring and plate reverb, various room simulations, and even swell and supernatural-sounding non-linear effects, reverb tails with octave effects, simple early reflections, and more at your fingertips. The pedal can thus be used for conventional effect combinations, paired with various types of instruments on stage, and creatively deployed in the generation of all manner of soundscapes and textures. The Big Sky can be controlled in real time via its convenient, multi-control user interface, via MIDI commands, and using an expression pedal - which means that the reverb can be actively shaped by the player along with the rest of the sound. Small wonder, therefore, that the Big Sky is popular among synth players as well as guitarists.
About Strymon
The Californian effects pedal manufacturer Strymon was founded in 2004 under the name Damage Control and initially produced tube-driven pedals. In 2009, the name was changed to Strymon and the company began developing DSP effects, some of which have already achieved cult status. Classics such as the "Big Sky" reverb and the "Timeline" and "El Capistan" delays can be found not only on many a guitarist's pedalboard, but also thrive in recording studios. The quality of Strymon products has become a byword and today they are also being used by keyboard players and DJs alike. Strymon has firmly established a reputation for uncompromising sound and excellent workmanship.
More than just classy room reverb for the studio
The Strymon Big Sky capably covers the whole spectrum of reverb types for instrumentalists - but more besides, which makes the pedal equally suited to the studio and the stage. In live use, the storage options and spill-over function, the latter of which lets you switch programmes without cutting off the current reverb tail, are sure to be valuable assets. Another advantage that the Big Sky has over its rack-format counterparts is its intuitive user interface. Whether you want to use the onboard controls, MIDI commands, or an external expression pedal, the Strymon Big Sky puts the creative control of your reverb completely in your hands.
This is what customers who viewed this product bought