Reactive loadbox / attenuator / speaker simulator / IR loader / stereo expander
For home, live and studio use

Max. power rating: 100 W RMS

8 Ohm version

For playing a tube amplifier at its "sweet spot" and adjusting the volume with the attenuator

New functions for the Torpedo Captor family include a stereo expander (stereo reverb and double tracker), enhancer, voicing, space, noise gate and XLR DI outputs with 3 routing options (stereo, dual mono and dry / wet)

Controls: Space, Voicing, Out Level, Preset

Push buttons: In Level High / Low, Gnd Lift

Switch: Volume Full / Low

Headphone output: 6.3 mm stereo jack

Speaker input: 6.3 mm jack

Seaker output: 6.3 mm jack

Left & Right output: XLR

MIDI input: 3.5 mm stereo jack

USB

Power supply connection: barrel connector 5.5 x 2.1 mm, centre negative polarity

Power supply with a 12 V DC power adapter (included)

Dimensions (W x D x H): 128 x 175 x 64 mm

Weight: 1.3 kg

Includes Wall of Sound Cabinet Simulator plug-in licence (VST/AU/AAX)
Effect Types
Speaker Simulation
Dummy Load (usable without cabinet)
1
The tube amplifier's best friend
Until now, if you wanted to record your guitar or bass amplifier in high quality, you needed a decent speaker cabinet, a selection of microphones, and a room that not only sounds right but also allows you to crank up a 100-watt amplifier. With the Captor X, Two notes has now managed to replace all of this recording-related equipment. But the Captor X can do much more: Besides volume reduction and a choice of versatile speaker simulations, the compact eight-ohm load box also offers features such as a noise gate, tuner, EQ, stereo reverb, and stereo expander. The outputs are also designed for stereo operation. All functions can be controlled via the computer or via a mobile phone or tablet app. The possible uses range from quiet recording at home to a compact and simple stereo setup for live stages.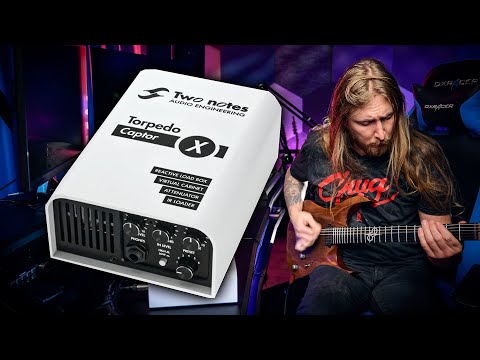 Operation via Bluetooth and smartphone app
As a load box, the Captor X can convert the energy of the amp signal into heat and thus offers a load resistance like that of a speaker cabinet. Since the pure amp signal is difficult to use, it can be enhanced with a selection of 32 loudspeaker and eight microphone simulations in the Captor X. The simulated microphones can be mixed together in pairs and their position can be changed in detail. Additional speaker simulations can be purchased from the Two notes website. Your own impulse responses (IRs) can also be loaded onto the unit. For all settings, either the free computer software or the smartphone or tablet app can be used. This also applies to the extensive post-processing features comprising an EQ, enhancer, and stereo reverb. A special feature is the Twin Tracker, which creates a virtual second guitarist. 128 presets can be stored, the first six of which can also be selected via the front panel.
If you want to get the most out of your amp
The Captor X is suitable for anyone who has grown fond of the sound of their loud, analogue guitar or bass amp and doesn't want to switch completely to modelling. As most people know, a tube amp only reaches its sonic sweet spot at a certain volume. Using the Captor X's speaker simulations or attenuator, this sound experience can also be enjoyed quietly at home - and thanks to the headphone jack, there is complete silence for the outside world when practising. If you primarily record at home, you can also save yourself the effort of investing in a setup consisting of speaker cabinets, microphones, and a decent-sounding room. Live musicians, on the other hand, will benefit from the compact design of the Captor X.
About Two notes
Two notes Audio Engineering is the brand under which the French company Orosys SAS markets its products. The company was founded in 2006 by Guillaume Pille in Montpellier. Pille's vision was to find a solution which allowed guitarists to easily record their favourite 100-watt amplifier at home as well as use it on stage under optimum conditions. In 2010, Two notes launched its first hardware product, the Torpedo VB-101, which turned this vision into a reality thanks to features such as its internal digital speaker simulation. Further hardware and software solutions for guitarists and bassists followed that continued this concept and have since established Two notes Audio Engineering as one of the most popular manufacturers in the field of load boxes, loudspeakers, and power amp simulations – as well as the "silent recording" scene in general.
Flexible signal distribution
The application possibilities of the Captor X are extremely diverse: For example, the Captor X can not only be used with the internal simulation, it can also be used between an amp and speaker cabinet to reduce the output volume by up to -38 dB with the built-in attenuator while the tube amp is driven into power amp saturation. The two XLR outputs allow a quick connection with an interface when recording or to the PA or mixer on stage. Especially in live situations where only one guitar is used, the stereo function of the Captor X makes a great case: Thanks to Twin Tracker, wide guitar stereo pans are possible even without a second instrument. When the Captor X is running in dual mono, the signal can be split and processed differently - once for FOH and once for your own monitoring or in-ear system. If you prefer to have full control over all settings live, you can also control the Captor X via MIDI.
In the spotlight: Twin Tracker
The Twin Tracker function of the Captor X generates a virtual duplicate signal with which a wide stereo sound can be created. This has many advantages. For example, the overall sound seems much bigger when using headphones. This in turn creates a playing sensation that makes you think you are playing through a large speaker cabinet. If you combine the Twin Tracker with the stereo output of the Captor X, you can create a wide stereo pan live - all without a second guitar. According to the manufacturer, the second signal is a delayed real-time recording with slight differences in timing and attack. This is routed to the left channel to create exactly this stereo effect. Theoretically, this can even save you the effort of recording a second guitar track if time is tight.
This is what customers who viewed this product bought