12x18 Thunderbolt 3 Audio Interface
Featuring UAD-2 Quad processor for near-latency-free recording via plug-in emulations of classic compressors, EQs, tape machines, mic preamps and guitar amps

24-Bit / 192 kHz AD/DA converter

4 Unison microphone preamps

+48 V Phantom power

Integrated talkback microphone

Dynamic range: 127 dB

Monitor functions with controls for mono, mute, DIM and ALT

Design: Desktop

Includes software bundle Rackmount Heritage Edition & Realtime

Analog Classics Plus

Matching case: Article no. 495524 (not included)
Technical specifications:
4 Mic/Line combo inputs: XLR / 6.3 mm jack

2 Hi-Z instrument inputs: 6.3 mm jack

4 Line outputs: 6.3 mm jack

2 Monitor outputs: 6.3 mm jack

ADAT/SPDIF input and output optical

2 Stereo headphone outputs: 6.3 mm jack

Thunderbolt 3 connection (Thunderbolt cable not included)

Input for external power supply unit

Dimensions (W x H x D): 233 x 66 x 151 mm

Weight: 1.46 kg
available since
December 2020
Recording / Playback Channels
12x18
Number of Instrument Inputs
2
Number of S/PDIF Connectors
1
Number of ADAT Connectors
1
Number of MADI Connectors
0
Max. Resolution in Bit
24 bit
Windows Thunderbolt driver
Yes
Pro-level desktop audio interface
The Universal Audio Apollo x4 is an extremely versatile desktop audio interface that can be operated on a Mac or PC via a Thunderbolt 3 port. This portable 12-in/18-out audio interface with state-of-the-art 24-bit/192kHz conversion technology and four Unison preamps bridges the gap between the smaller Apollo Twin and the larger Apollo rackmount audio interfaces. The Apollo x4 comes with no less than four Sharc processors for running the widely renowned UAD plug-ins so that users can immediately start recording their own music with the "Realtime Analog Classics Plus" plug-in bundle that is included as standard and the free Luna DAW software (for Mac only).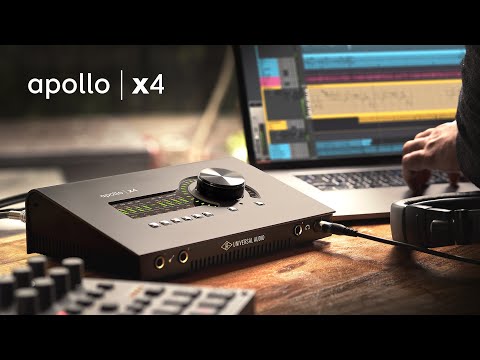 Analogue sound for a digital world
The Unison technology enables the UAD plug-in software to be seamlessly integrated with the internal microphone preamp hardware, delivering the most authentic reproductions of iconic vintage preamps or guitar and bass amplifiers. The Universal Audio Apollo x4 comes with the "Realtime Analog Classics Plus" UAD plug-in bundle including the UA 610-B preamp, the Marshall Plexi Classic amplifier, the Ampeg SVT-VR Classic bass amp, and a selection of further classic effects processors from the legendary Pultec EQP-1A and Teletronix LA-2A, and even the iconic Fairchild 670. The plug-ins can be recorded through with near-zero latency via the UA Console application and, of course, used for mixing in all major DAWs such as Cubase, Logic, Live, or Pro Tools.
Ideal for producing on the go
The high-quality Apollo x4 audio interface featuring four Unison preamps is an excellent choice for any ambitious musician and producer who appreciates a high level of flexibility without making compromises on sound quality. Thanks to its monitoring section with an integrated talkback microphone, a function for switching between different sets of monitor speakers, and two independent headphone outputs, this compact desktop audio interface combines all the functionalities of a control centre, monitor controller, and DSP farm in a single unit. The Apollo x4 is an ideal starting point for combining a whole bunch of UADs together: Up to four Apollo audio interfaces with a Thunderbolt connection and up to six UAD-2 devices (e.g. UAD-2 Satellite or UAD-2 PCIe cards) can be cascaded to create a consolidated studio system that offers a large number of inputs/outputs and powerful DSP performance.
About Universal Audio
Few manufacturers can draw upon a wealth of audio engineering experience comparable to that of Universal Audio. The company's founding father Bill Putnam, along with his friend Les Paul, have an admirable reputation as trend-setting music producers and developers of legendary analogue studio technology. Putnam recorded Chuck Berry, Muddy Waters, and Sarah Vaughan, and was Duke Ellington's favourite sound engineer. He developed the famous 1176 Peak Limiter and distributed the Teletronix LA-2A level amplifier. This earned him a posthumous "Technical Grammy Award" in 2000. In 1999, Putnam's sons, Bill Putnam Jr. and James Putnam, re-founded Universal Audio, transferring their father's analogue vision and craftsmanship to the digital music world. Their product range includes audio interfaces, dedicated DSP farms, and a variety of plug-ins, as well as analogue hardware devices.
Perfect sound for every situation
The Universal Audio Apollo x4 desktop audio interface makes a convincing case thanks to its excellent sound characteristics and the virtually unlimited possibilities it offers producers both in the studio and on the go. Thanks to its suitability for cascading with multiple Apollo units, it will also be interesting for studio producers, for example, who are looking for basic equipment that can be used both on the go and as part of a cascaded system comprising further Apollo interfaces and UAD-2 devices. The Apollo x4 will also be the perfect choice for every user who wants to track through the analogue sounds of legendary Neve or SSL consoles, iconic vintage compressors, famous reverbs, and classic amps while producing digital music "on the road".
In the spotlight: Meaning of SOLO, DUO, QUAD, and OCTO
Each Apollo interface features one or multiple Sharc processors for computing the "Console" mixer software and the UAD plug-ins. Each plug-in consumes a fraction of the DSP chip's processing power (between one and sixty percent), depending on its complexity. A small percentage goes to the mixer software for internal signal processing and routing. The number of Sharc DSPs that are used in a Universal Audio device is indicated by the product description: There is one DSP chip in a SOLO unit, two in a DUO, four in a QUAD, and eight in an OCTO unit. The Apollo x4 is available solely in a QUAD configuration.
The Apollo Heritage Edition
The Universal Audio Apollo x4 Heritage Edition comes with ten additional UAD plug-in titles comprising various collections. Alongside all classic effects from the standard "Realtime Analog Classics Plus" bundle, these include iconic plug-ins such as Helios Type 69, V76 Preamp, Teletronix LA-3A, Oxide Tape Recorder, and Pure Plate Reverb as well as all newly modelled, more complex versions of the older legacy UAD plug-ins included with the standard bundle, namely UA 1176, Teletronix LA-2A, Fairchild 670, Pultec EQP-1A, and the full UA 610 Tube Preamp & EQ collections. Users who already own one or more of these Heritage bundle plug-ins can select from a list of alternative UAD plug-ins during hardware registration.
This is what customers who viewed this product bought