Analogue Drum Machine
Optimised circuit design with emulation of the BA662 VCA, increased signal-to-noise ratio and improved phasing of the individual outputs and the main out

16 Drum sounds

64-Step sequencer with poly meter, step repeat, note repeat, real-time triggering, track mute and track solo

Wave Designer

Dual mode filter

Up to 16 songs and 256 patterns can be stored

Auto scroll function

LED display

Dimensions (H x W x D): 77 x 498 x 265 mm

Weight: 3 kg

Matching case: Art. 483035 (not included in delivery)

Matching case: Art. 493543 (not included in delivery)
available since
March 2022
MIDI interface
1x In, 1x Out, 1x Thru
Number of analog outputs
11
With the RD-8 MkII, Behringer introduces a second-generation drum machine that features analogue sound generation inspired by a legendary drum machine which came to prominence in the 1980s and thus fulfils the long-time dream of many sound nerds. The RD-8 MkII features 16 classic sounds which can be transformed into rhythms using a 64-steps sequencer. It is equipped with separate outputs for each instrument, as well as three trigger outputs and a sync input and output. Unlike its predecessor, the RD-8, the second generation comes with a better signal-to-noise ratio and an improved phase position for the inputs and outputs, thanks to an optimised circuit design featuring a replica of the BA662 VCA. Drum machine afficionados can therefore enjoy both enhanced sound quality and new sequencer features.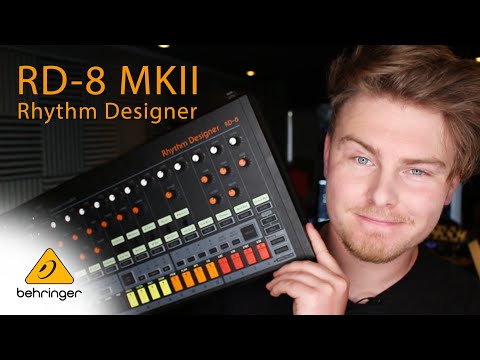 Old concept, new sounds
Just like the first generation of the RD-8, the second one has an integrated wave designer that allows attack and sustain to be individually adjusted in the stereo bus. The analogue dual-mode filter with its cutoff and response regulators can be switched on for individual tracks, while the new Flam and Swing functions improve pattern creation. Much like Behringer's first generation, this new model features redesigned and thus more user-friendly programming and storage options, with an LED display showing the settings that have been made. The sequencer of the RD-8 MkII supports poly meter, step repeat, note repeat, real-time triggering, track mute, and track solo functions, while MIDI and USB ports guarantee comfortable and productive studio work sessions.
For sound nerds and nostalgics
Beat creators will find the RD-8 MkII to be a reliable analogue drum machine with a user-friendly touch and feel. The new functions encourage experimentation, while the classic sounds of the TR-808, adopted by artists such as Kraftwerk, Phil Collins, Prince, and Public Enemy, remain a staple in music production. Up to 16 songs can be created from a total of 256 storable patterns in Pattern Launch mode. The Auto-Fill function can generate variations for fills at the touch of a button in order to ensure more interesting performances. What is more, a new song can be selected without interrupting the current playback. This makes the RD-8 MkII an authentic and faithful performing companion for every solo artist.
About Behringer
The company, which was founded in Germany by Uli Behringer and now manufactures its products in China, has been known for affordable and great-value equipment since its very first product, the Studio Exciter F. An array of mixing consoles (such as the Eurodesk MX8000), signal processors, and later sound amplification and monitoring equipment, has made it possible for countless musicians to fit out their home studios, practice rooms, and mobile PAs within budget limits that were previously unthinkable. The acquisition of other companies, including Midas, Klark Teknik, and TC Electronic, meant that new product groups were added - and also resulted in the technical expertise of these companies being incorporated into product development.
A plethora of effects and outputs
Thanks to the RD-8 MkII's pitch and tone controls, the bass drum can be adjusted to different pitches, thus also allowing it to be matched to the pitch of the respective song. This also makes it possible to create bass lines of the kind favoured by many artists in the Hip-Hop scene. The numerous MIDI inputs and outputs as well as the USB port can be used to send and receive MIDI messages, thereby making it possible to integrate this drum machine into any existing setup in a flexible and seamless way. Thanks to the RD-8's latest firmware update, Behringer's Synth Tool software is also supported, allowing for easy updating and adjustment of MIDI settings.
This is what customers who viewed this product bought