Diatonic Scale Set
Tuned percussion tubes

Comprises C'-D'-E'-F'-G'-A'-B'-C''

Material: robust, fully coloured plastic

Suitable for children

Tubes not for sale individually
available since
September 2002
Boomwhackers in a diatonic set
The diatonic set offered here is recommended as a low-cost entry into the world of Boomwhackers or as an upgrade for an existing set. All sounds of the C major scale between middle and treble C are included once each. Optionally, the set can be expanded, e.g. with a chromatic extension set or with a bass or soprano set. Separately available octave caps allow you to transpose individual Boomwhackers down by one octave.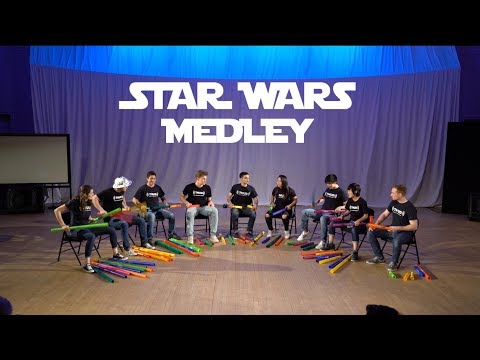 Intuitive music-making for groups
Boomwhackers are tuned percussion tubes made of recyclable plastic that enable playful music-making in groups without major financial or organisational effort. The name is made up of the onomatopoeic "boom" and the colloquial "whack" for hitting hard. Boomwhackers can be played and create their sound in many different ways, which include striking them against your own body (e.g. hand or thigh), on the floor, or against other surfaces, and also by playing them with different drumsticks. Moreover, you can easily create intervals by beating two Boomwhackers against each other.
Suitable for all ages
Extremely simple in concept, Boomwhackers are perfect for use in music classes and especially in drum circles or percussion groups. Students of all ages can practise an interplay that contains rhythmic, melodic, and harmonic parts all at once without any prior musical knowledge. From an educational point of view, the group aspect is particularly interesting because a set of Boomwhackers can essentially be understood as a single instrument that is played in a coordinated manner by several players. And if the players are musically more advanced, quite impressive performances can easily be put together.
About Rhythm Band Instruments
Since its inception in 1961, American company Rhythm Band Instruments has specialised in the manufacture of instruments for elementary music education and classroom music-making. In addition to a wide selection of percussion instruments, the product range includes stringed instruments, flutes, and a variety of teaching materials. The products, some of which are very innovative, are developed by musicians and educators. Their construction reflects a high quality of workmanship, and the instruments are designed specifically to meet the increasing demands of teaching music to groups of children.
Simple graphical notation through colour coding
Especially with groups of children without any prior musical knowledge, arrangements for Boomwhackers can be written down in an understandable way using simple graphic notation (e.g. on a blackboard). The colour coding for the different pitches is extremely helpful and makes it easy for the young players to intuitively hit the right Boomwhackers at the right time without having to be familiar with regular notation. And the concept of solmisation can also be easily applied thanks to the printed syllables (related to the fundamental C).
This is what customers who viewed this product bought