Shortscale Electric Bass
Standard series

Body: Poplar

Bolt-on neck: Maple

Fretboard: Amaranth

Fretboard inlays: Dots

Neck profile: Modern C

19 Frets

Scale: 762 mm

Nut width: 42 mm

Double-Action truss rod

Pickup: 1 PB-Style split coil

1 Volume control and 1 tone control

Chrome hardware

Classic PB-style machine heads

Ex-factory stringing: .040 - .095

Colour: Black high gloss

Suitable gigbag: Article no. 142777 (not included)
available since
December 2004
Shrunken classic
For a few years now, short-scale basses have been all the rage once again, and of course Harley Benton has not let this trend go unnoticed. The PB-Shorty is a four-string P-style bass with a shorter scale and the look and sound of a classic. With its split-coil pickup and passive electronics, it follows the model from the 60s and is similarly at home in almost every playing style. For children and young people in particular, a short-scale bass makes it easier to get to grips with the instrument and embark on a rockstar career. With all of its features, the PB-Shorty offers an extremely well-priced overall package, as one has come to know and almost expect from Harley Benton.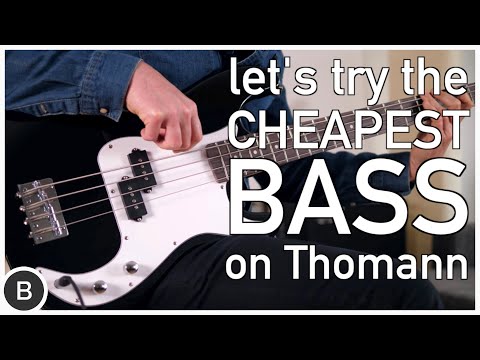 All the features a bass needs
A poplar body, a maple neck, and an amaranth fingerboard are the basis of the Harley Benton PB-Shorty. The scale is 762 mm long and is about 10 cm shorter than the 864 mm of a "full-size" instrument. The nut width of 42 mm and the C-profile of the neck provide a familiar playing feel and a comfortable grip for the fretting hand. The split-coil pickup and the passive electronics with a volume and a tone control have defined the typical P-bass sound for over 60 years, and the PB-Shorty is no exception. But the sound is not the only thing that matters – a pleasing appearance is also important. The PB-20's design, finish, vintage-style machine heads, and pickguard create a suitably authentic look. The black lacquer finish is also absolutely timeless and fits every style.
For players of all sizes
It goes without saying that smaller basses also fit smaller hands, and the Harley Benton PB-Shorty is thus perfectly suited for children, teenagers, and all those who find it difficult to play "normal" electric basses because of their size. Even guitarists who occasionally pick up a bass will certainly find it much easier to switch between instruments with a short scale, as the scale of the Harley Benton PB-Shorty is very close to that of a guitar. Of course, a small bass also takes up less space, which comes in handy if you often travel with your instrument on public transport such as buses and trains. Here too, the Harley Benton PB-Shorty can make life easier.
About Harley Benton
Since 1998, the Harley Benton brand has been catering for the needs of numerous guitarists and bassists. In addition to an extensive range of stringed instruments, Thomann's house brand also offers a wide choice of amplifiers, speakers, effect pedals, and other accessories. In total, the range includes over 1,500 products. Built by established names in the industry, all Harley Benton products combine quality and reliability at attractive and affordable prices. The continuous expansion of the range ensures that Harley Benton always provides new, exciting, and innovative products that keep players perfectly in tune with the musical world, day after day.
Small bass - big sound
With short-scale basses, it is not only practical aspects such as size that make a difference. They also have a very special sound that is indispensable to music history - consider Paul McCartney, for instance. The shorter the scale compared to the same string gauge, the bassier the sound - some definition and sustain is also lost, however. These traits are ideal for styles like Blues, Rock, 60s Soul, and almost anything that can be labelled "vintage". Here, a transparent and defined bass sound tends to push itself too much into the spotlight and doesn't really want to be integrated into the mix. In these cases, short-scale basses like the PB-Shorty offer a great alternative, especially in combination with flatwound strings.
This is what customers who viewed this product bought