Portable Amplifier
Compact portable battery-powered amplifier with functions for playing along and singing along to streamed music via the integrated Bluetooth function

Ideal for electric guitar, acoustic guitar, ukulele, vocals and music

Power: 60 watts RMS

Equipped with: 2x 5.5" broadband speakers

Microphone channel control: XLR / jack combo jack, bass, mids, treble and volume

Microphone / Acoustic Guitar Channel Controls: Microphone / Guitar

Mode Selector, Bass, Middle, Treble, Volume and Digital Effects (Echo and Reverb)

Acoustic guitar channel control: active / passive pickup mode switch, bass, middle, treble, volume and reverb effect

Anti-feedback filter with frequency and depth controls

Master volume control

Integrated compressor to protect the speakers and avoid distortion

Bluetooth volume with on / off switch

Amp out and input (line)

Integrated rechargeable lithium battery with LED display - up to 5 hours at 80% volume, charging time: 3 hours

Integrated speaker stand base

Ergonomic metal handle

Power supply / charging via 24V 1.5A adapter (included)

Dimensions: 375 x195 x185 mm

Includes transport and outdoor gig bag
available since
January 2020
Battery Operation in hours
5 h
Wireless through the night
Going wireless is a treat, especially for musicians who have learned to fear cables in any form as a source of technical issues or a tripping hazard. When it comes to powering amplifiers, manufacturers do have a bit of a hard time, however, but even that is improving - as can be demonstrated impressively by the Harley Benton StreetBox-60. This handy device delivers up to 60 watts of power for several hours, which is significantly longer than most existing battery-powered amps can do. In addition to the three channels, you get a battery-powered amplifier that's ready for busking, playing around the camp fire, or even a spontaneous pub gig.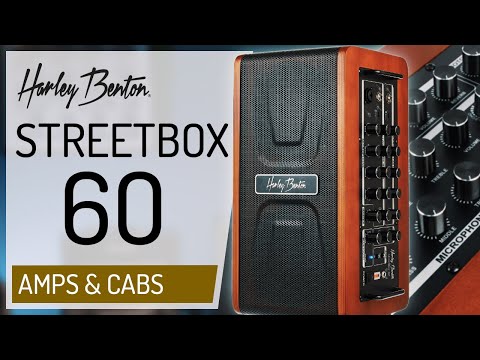 Clever equipment
The Harley Benton StreetBox-60 is a battery-operated full-range amplifier with an output of 60 watts, which powers two 5.5" speakers. The whole device comes in a very handy housing that you can put on a high stand for better positioning. All the electronics are implemented in a rack-style unit, with the controllers secured by metal brackets. The preamp has three full-featured channels (guitar, guitar/mic, and mic) as well as a Bluetooth connection. A volume control and a three-band EQ section are available on all three channels. In addition, two channels can be routed to the built-in effect. A master volume determines the impressively high output level, and an adjustable notch filter successfully keeps annoying feedback at bay.
Clear message
The hour of the Harley Benton StreetBox-60 strikes when finding power supply is difficult or impossible, for example in the pedestrian precinct, at the lake, or generally outdoors. Of course, you can't expect a PA-like performance from the unit, but especially if you don't expect deep bass from the StreetBox, you can get quite far with 60 watts. This is ideal for acoustic string instruments such as guitars, violins, or ukuleles, but speech and vocal performances of all kinds are also well catered for by the StreetBox. It is indeed very practical that one has several channels and can thus amplify one's vocals and guitar at the same time - and then still have a channel in reserve. Pretty clever!
About Harley Benton
Since 1998, the Harley Benton brand has been catering for the needs of numerous guitarists and bassists. In addition to an extensive range of stringed instruments, Thomann's house brand also offers a wide choice of amplifiers, speakers, effect pedals, and other accessories. In total, the range includes over 1,500 products. Built by established names in the industry, all Harley Benton products combine quality and reliability at attractive and affordable prices. The continuous expansion of the range ensures that Harley Benton always provides new, exciting, and innovative products that keep players perfectly in tune with the musical world, day after day.
Good vibes without a power outlet
A guitar, a microphone, and the Harley Benton StreetBox-60: That's all you need to spread good vibes in the pub, but especially somewhere outdoors. Of course, the compact device should be placed at ear-level, but that's what the speaker stand base is for. Where is the power socket? It doesn't matter, we only need it for charging. The built-in battery has such a large capacity that it can get through a street music gig at full steam, and at low power it can also provide sound for a campfire all night long. The Bluetooth connectivity is a particularly welcome feature here, as it allows everyone to play their own playlist with their smartphone.
This is what customers who viewed this product bought