Electric Guitar
Body: Poplar

Bolt-on neck made of vintage caramelised maple with Roseacer skunk stripe

Vintage caramelised maple fingerboard

Neck profile: Modern "D"

Scale: 648 mm

Fingerboard radius: 305 mm

Nut width: 42 mm

21 Frets

Pickups: 2 Roswell AlNiCo 5 TEA-F-CR/TEA-B single coils

Volume and tone controls

3-Way switch

3-Ply mint green pickguard

Dual action truss rod

Hardtail bridge

Kluson-style machine heads

Deluxe hardware

Factory strings: D'Addarío EXL-110 .010 - .046 (Art.104555)

Colour: Sea Foam Green
Available since
December 2021
Fretboard
Caramelized Canadian Maple
Neck
Caramelized Canadian Maple
A throwback to a classic!
The T-Style guitar has been a staple of the popular music scene for ages. This meat-and-potatoes design has been serving well across genres for decades, well into the current day. With the Harley Benton TE-62CC, you can now get a classic model at a pretty low cost! The Harley Benton TE-62CC is inspired by the vibe of those original sought-after instruments, with features that will also appeal to the modern player. As always, Harley Benton has managed to make a guitar with quality features at a price that is hard to beat.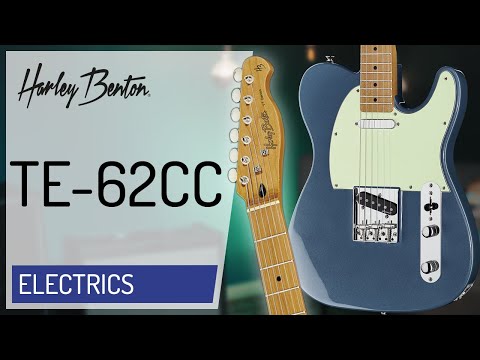 Vintage style with modern playability
The Harley Benton TE-62CC SFG is a traditional T-Style bolt-on neck guitar, with a few modern appointments to bring it into the 21st century. It has a poplar body, which you can get in four exciting custom colour finishes. The Surf Green finish is a throwback to those early colours of the '60s. This is paired with a roasted maple neck and fingerboard, with 21 frets. A Roseacer 'skunk stripe 'on the back of the neck and the three barrel-saddles complete the vintage look. And those Roswell AlNiCo 5 pickups are sure to get you close to those classic tones. Updates for the modern player include a Modern D neck profile, which isn't slim, but should be comfortable in the hand without ever getting the way of playing, and a dual-action truss rod. It also ships with high-quality D'Addario EXL110 010 - 046 gauge strings.
The TE-62CC has you covered
The Harley Benton TE-62CC should satisfy all your T-Style needs. All the way from country twang to Chicago blues, through to hard rock, the TE-62CC will have you covered. And at a price so competitive, you might think it was aimed at beginners. But don't be fooled by the price, many advanced players and tinkerers alike have become fans of the brand, who, with a few upgrades, are able to use their Harley Benton guitars as their main instruments, or as a reliable backup. If you're looking for a modern guitar with all the bells and whistles, you're looking in the wrong place. The TE-62CC is strictly a barebones instrument that pays homage to the early solidbody guitars of the '50s and '60s.
About Harley Benton
Since 1998, the Harley Benton brand has been catering for the needs of numerous guitarists and bassists. In addition to an extensive range of stringed instruments, Thomann's house brand also offers a wide choice of amplifiers, speakers, effect pedals, and other accessories. In total, the range includes over 1,500 products. Built by established names in the industry, all Harley Benton products combine quality and reliability at attractive and affordable prices. The continuous expansion of the range ensures that Harley Benton always provides new, exciting, and innovative products that keep players perfectly in tune with the musical world, day after day.
A workhorse - on stage and in the home studio
T-Style instruments often get associated with country music, because of their distinctive 'twangy' tones. The traditional combination of bolt-on maple necks with single coil pickups provides a 'snappy' response that has been a hallmark of country and western music. But this style of guitar has not only been popular among Nashville players, but players of all styles from jazz to rock. The choice of tonewoods married to the Roswell AlNiCo V single coil pickups will give players a range of tones to play with, whether it's hot smoking leads or crisp funky rhythms. Working musicians will find it to be a reliable workhorse or backup guitar, while beginners will find it a good way of dipping their toes in the electric guitar realm.
Im Detail erklärt
Roasting
Roasted maple necks go through a process of 'roasting' (hence the name) the maple, where as much moisture as possible, is removed from the wood. Of course, this also lends to its rich, darker hue. Roasted maple necks therefore tend to be more resistant to changes in humidity and weather. This means you don't have to worry about exposing your guitar to the elements, and are able to have a more reliable and durable instrument. This will be especially useful for beginners, or people who live in areas where the weather fluctuates dramatically. Of course, the beautiful caramel-esque colour is just a bonus!
This is what customers who viewed this product bought