Lewitt LCT 440 PURE Popfilter Bundle
Bundle offer comprising
Lewitt LCT 440 PURE
Large diaphragm condenser microphone

Cardioid

25.4 mm capsule gold-plated

Dynamic range: 134 dB-A

Max SPL 0.5% THD: 140 dB

Robust zinc die-cast housing

Gold coater 3-pin. XLR connector

Dimensions: 138 x 52 x 36 mm

Weight: 310 g

Incl. DTP40 Lb leather case, LCT 40 SH microphone spider, LCT 40 PSx magnetic pop filter, LCT40 Ws windscreen
Gravity MA 3D A POP 1
Pop Filter with 3D Arm

Exclusive Thomann Edition

Lightweight and space-saving

Perfect for travelling

Multiple ball joints for flexible adjustment

Solid clamp with wide clamping range from 15 to 35 mm

High-quality pop filter with double-covered nylon and large screen diameter of 15.7 cm

The 360° rotation possibilities of the three joints offer the option to mount the pop filter in any position

Arm length: 62.5 cm

Weight: 377 g
Available since
February 2022
Switchable Polar Pattern
No
A budget-friendly allrounder
The LCT 440 Pure from Lewitt is a large-diaphragm condenser microphone with a cardioid polar pattern. It makes studio-quality recordings possible and is suitable for vocals and acoustic instruments. This model, which was first launched at the 2017 NAMM show, is the smallest and most compact microphone in the LCT series and requires a 48-volt phantom power supply. It features a simplified design that dispenses with control elements, which makes recording particularly easy. Simply connect the mic, adjust the volume and gain, and you're all set. No matter what instrument you wish to record, the LCT 440 Pure is ideal for a wide range of applications. In addition to the microphone, this bundle also includes a high-quality pop filter that can be adjusted to a wide variety of positions.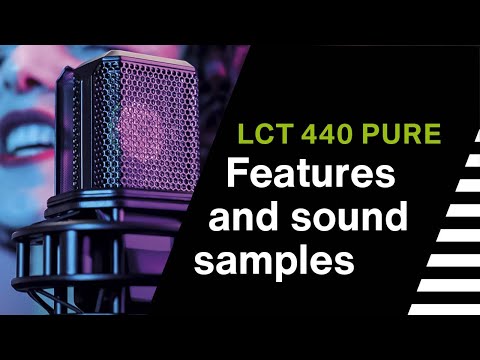 Excellent results through effective technology
The LCT 440 Pure delivers a clear high end and has a low signal-to-noise ratio of 87 dB(A); its sensitivity is 27.4 mV/Pa. The microphone has a dynamic range of 133 dB(A), which means it can effectively record even soft whispers. Its wide frequency response of 20 Hz to 20 kHz also means that sources with a lot of low end (e.g. the toms in a drumkit) can be recorded. At the heart of the condenser microphone is a gold-sputtered capsule with a diameter of 25.4 mm, which is installed in a robust, zinc diecast housing, and the mic's XLR connection is also gold-plated to protect it against corrosion. And since the LCT 440 Pure weighs just 310 grams, it is very easy to transport.
Entry-level microphone for high-quality recordings
The LCT 440 Pure is aimed at musicians and budding engineers who are looking for an affordable all-round microphone that offers studio-level recording quality. Whether the task is to record vocals in your home studio or mic up the guitar amps in your rehearsal room: This condenser microphone is versatile enough to be used in a wide range of recording situations. Thanks to its minimalistic design and front-facing capsule, even beginners can operate it without difficulty. What is more, the scope of delivery also includes useful accessories to aid the recording process: A shock mount to acoustically decouple the microphone, a magnetic pop filter, and a wind shield as well as a leather carrying case that will save a lot of space when transporting the LCT 440 Pure. In addition to the smaller pop filter included in the standard scope of delivery, this bundle also includes a larger pop filter that can be mounted on the mic stand in a wide variety of positions to better suit the needs of the individual and thus optimise the quality of the recording.
About Lewitt
Founded in Vienna in 2010, the midsize Austrian company Lewitt describes itself as the world's fastest-growing microphone brand, and indeed Lewitt has quickly made a name for itself among producers. The reason: The firm has a passionate team that produces remarkably transparent-sounding condenser microphones with low self-noise. Development takes place in Austria, but by producing the microphones in China, among other factors, Lewitt can offer its high-quality products at extremely low prices.
Fixed cardioid pattern
The LCT 440 Pure's streamlined technology makes it easy for beginners to use and eliminates many pitfalls. The mic has a fixed cardioid polar pattern which, in contrast to many other similarly designed microphones that employ a passive element, is achieved by combining an omnidirectional and a bi-directional signal picked up in close proximity. The microphone has an impedance of 110 ohms and will tolerate phantom power fluctuations provided they are lower than 3 mA, so it can be used in combination with equipment from any price category without compromises having to be made. The LCT 440 Pure's frequency response is largely linear: From 4 kHz, a frequency boost of up to 5 dB can be expected, which gives the microphone its clear-sounding treble frequencies. The higher the frequency, the more directed the recording will be, and the mic's cardioid polar pattern keeps the recording free of ambient noises.