Sampling Percussion Pad
9 Velocity sensitive percussion pads

608 Sounds

30 Kits

17 Loops

512MB internal memory for own WAV samples are approx. 256MB free memory due to the internal sounds).

3-Band EQ

Reverb effect

Limiter

Metronome

Quick Record for your own loops

Kit Chain allows favouriting of preset kits for quicker selection

A/B Sampling allows you to place two sounds on a pad and determine how they are played back

Mute Group determines pads that cannot play sounds at the same time

Linked Pad couples 2 pads so that they trigger each other

2x 6.3 mm Jack main outputs

1x 6.3 mm Stereo jack headphone output

2x 6.3 mm Jack trigger inputs for expansion with two stereo or four mono pads

2x 6.3 mm Jack footswitch input for hi-hat pedal or control of functions

1x 3.5 mm Stereo jack line input

USB memory

MIDI in & out

Dimensions (W x D x H): 36 x 30.5 x 7.5 cm

Weight: 2,4 kg

Includes power supply and 3.5 mm headphone adapter
available since
March 2022
Number of Trigger inputs
2
The drum set in briefcase format
The Millenium Nonapad is a multipad that combines nine playing surfaces in a compact housing and contains more than 600 internal sounds. Thanks to the MIDI and USB connections, external sound sources can be triggered as well. You can also connect up to four additional pads, allowing the Nonapad to be configured like a traditional drum kit. In addition to the internal sounds, around half of the Nonapad's 512MB of space is available for user sounds such as loops or samples, which can be combined with the internal sounds at will. A recording function allows you to quickly create sequences that can be played back as loops. An equaliser, a limiter, and a reverb effect are available for sound editing.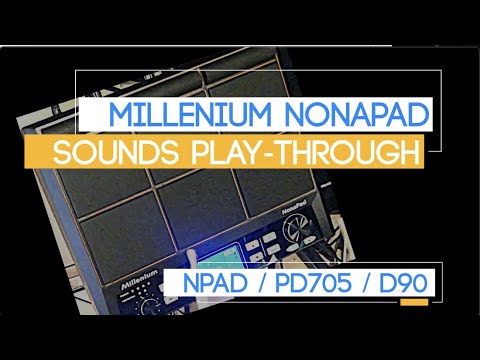 Huge selection of sounds
Using an optionally available mounting and a multi-clamp, it is possible to attach the Nonapad to any tripod. Thanks to its rubber feet, it can also be placed on a tabletop to prevent it from slipping if you want to use it at home. The 608 internal sounds and the 30 preset drum kits have the right sound for everyone. And if you prefer using your own sounds, you can save them to the internal memory of the Nonapad via a USB stick. The blue-illuminated LCD screen enables convenient editing, and nine lights assigned to the playing surfaces indicate the activity of the respective trigger. Variable dynamic curves allow you to adjust the response behaviour of the pads to your individual playing style.
Plenty of space for user sounds
The Nonapad offers every drummer the opportunity to expand their sonic palette with countless other sounds, be they electronic sounds, loops, backing tracks, or their own recorded samples. For example, you can easily incorporate special sounds from studio recordings into your live performance. The Nonapad is also ideal for recording at home: Thanks to the quantisation function, drum tracks can also be recorded even if you're not a drummer, and the USB and MIDI connections ensure perfect integration into music production on a computer. And if you're short of a drummer in the rehearsal room, you can simply jam along to one of the 17 preset drum tracks.
About Millenium
Millenium is one of Thomann's in-house brands and has been an integral part of the store's range since 1995. More than 800 products – from drums and percussion through to accessories such as microphone stands, racks, and recording workstations – bear the Millenium label. These products are made by renowned companies who also manufacture products for other well-known brands. Since they are imported directly from the factory without any further distributors or sales companies, they can be sold at particularly attractive prices. Incidentally, one in every four Thomann customers has already purchased at least one Millenium product.
Strong performance on stage
Nowadays, the boundaries between acoustic and electronic elements in music are becoming increasingly blurred, so it is very helpful if you, as a drummer, have an appropriate arsenal of sounds at your disposal. While in the past you had to drag several devices onto the stage, today there are all-rounders like the Millenium Nonapad, which is not only a huge sound database, but for example also plays loops or special sounds on stage that are produced in the studio and are a must-have in a live environment. Thanks to the connections for up to four external pads, these sounds can even be distributed anywhere within the drum set so that they can be conveniently and seamlessly incorporated into the performance.
This is what customers who viewed this product bought