Cymbal Set
Still series

Up to 80% quieter cymbal set compared to a standard cymbal set

Ideal as a low volume practice set for drummers who want to have an authentic feel

Ideal for unplugged gigs, rehearsal rooms and quiet practice at home

Material: Nickel

Finish: Regular
Set Consisting Of:
14" Hi-hat

16" Crash

18" Crash

20" Ride
Available since
April 2018
Configurations
1x Hi-Hat, 1x Ride, 2x Crash
Inc. Cymbal Bag / Case
No
As full of holes as a well-known cheese...
Who doesn't know this dilemma: The neighbours and bandmates are annoyed and your ears are ringing, but switching to rubber practice or e-drum pads and accepting the associated losses in playing feel is out of the question. The Millenium Still Series cymbal set in regular finish solves this problem thanks to the special manufacturing method used, and is the perfect compromise when it comes to volume reduction combined with a realistic playing feel. The set includes a 14" hi-hat, a 16" and an 18" crash cymbal, and a 20" ride.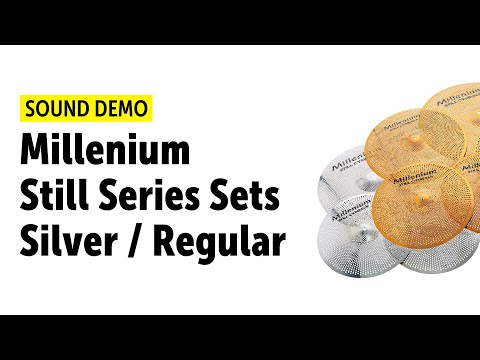 Authentic in feel and subdued in volume
Small, precisely drilled holes are distributed all over the entire surface of the cymbal, and in addition, twelve larger holes are placed around the bell. This special production method effectively reduces the volume so that the cymbals keep what the name promises even with stronger hits. At the same time, the drummer will experience an authentic playing feel. The sound of these cymbals can be described as hissing, with a strong treble range and perhaps less powerful than regular cymbals, but instead adapted to the intended purpose.
For anyone who wants to be considerate
The Millenium Still Series cymbal set is affordable for every drummer thanks to its unbeatably low price. No matter whether you're a beginner or a pro: This cymbal set is perfect for anyone who rehearses at a moderate volume with their bandmates or practises alone and doesn't want to do without the feeling of a real cymbal. If you also muffle the shells of the drum set with standard rubber pads, you get a perfect practice set that goes easy on all the ears in the room.
About Millenium
Millenium is one of Thomann's in-house brands and has been an integral part of the store's range since 1995. More than 800 products – from drums and percussion through to accessories such as microphone stands, racks, and recording workstations – bear the Millenium label. These products are made by renowned companies who also manufacture products for other well-known brands. Since they are imported directly from the factory without any further distributors or sales companies, they can be sold at particularly attractive prices. Incidentally, one in every four Thomann customers has already purchased at least one Millenium product.
For practice purposes or for smaller gigs
Whether they are used for teaching, in the rehearsal room with bandmates, or for solo practice at home: Thanks to their effective volume reduction, attractive price-performance ratio, and authentic playing feel, the cymbals of the Millenium Still Series are highly recommended for quiet practice with real cymbals. But even when used live in very small locations, your fellow musicians will appreciate that the cymbals do not drown out the overall sound of the band and thus ruin the quality of the performance.
This is what customers who viewed this product bought