Multi-Effect Pedal for Electric Guitar & Electric Bass
Powerful and compact effect unit with 2 GHz dedicated DSP from the Quad-Core SHARC architecture

Unique neural capture network architecture enables the analysis and simulation of the dynamics and sound of other amplifiers

Integrated Wifi for sharing rig capture presets, backups and firmware updates

The integrated Superior Modeling Technology enables a constantly growing collection of algorithms with uncompromising sound quality

With custom rig captures from some of the best producers and sound designers

Very low latency and unparalleled routing flexibility

7" Multi-touch display

Cabsim with over 1000 impulse responses

11 Newly developed combination foot switches with rotary control function

Volume controls

Power supply connection: barrel connector 5.5 x 2.1 mm, negative polarity inside

Power supply via 12 V DC power adapter (included)

Dimensions (W x D x H): 290 x 191 x 48 mm

Weight: 1.6 kg
Note: no battery operation possible.
Connections:
Input 1 & 2: Combo XLR / 6.3mm jack

FX Loop 1: 2x 6.3 mm jack

FX Loop 2: 2x 6.3 mm jack

Output 1 & 2: 2x XLR

Output 3 & 4: 2x 6.3 mm stereo jack

Headphone connection: 6.3 mm stereo jack

Expression 1 & 2: 2x 6.3 mm stereo jack

MIDI In & Thru / Ou

USB
Available since
April 2021
Integrated Expression Pedal
No
Connections for Pedals or Switches
Yes
Cutting-edge modeller for guitar and bass
With 2 GHz of DSP performance from its quad-core SHARC processor and its integrated USB audio interface, full MIDI compatibility, 7" touchscreen display, and full array of inputs and outputs, the Neural DSP Quad Cortex is certainly one of the most powerful and best-sounding effects units out there for guitarists and bassists. Users can choose from over 50 amp models and 70 top-flight effects, as well as 1,000 impulse response (IR) cabinet simulations. The Neural Capture technology, through which the sound characteristics of any amplifier and any cabinet can be reproduced to an astonishing degree, represents a brand-new approach in the world of sound modelling. The Neural DSP Quad Cortex reproduces each setup exactly as the human ear perceives it and offers really natural-sounding amp simulations.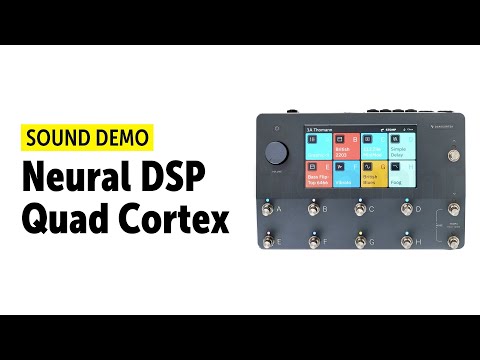 Clear and simple operation via touchscreen
The central 7" colour touchscreen display allows users to create unique patches in no time via drag-and-drop. In addition, the 11 sturdy metal switches also act as rotary controls and will allow any corrections to the sound to be made in a flash. The integrated Superior Modelling Technology makes a constantly growing number of algorithms with uncompromising sound quality possible, thus rendering additional equipment redundant. Nevertheless, the unit is also equipped with two effects loops that will allow the user to integrate their favourite pedals into the setup. What is more, the Neural DSP Quad Cortex is equipped with a pair of balanced stereo outputs, two expression pedal inputs, a MIDI interface, and two combined XLR/6.3 mm (1/4") jack inputs and thus provides immense flexibility. Finally, the 48 V phantom power option makes the stereo inputs perfect for vocals and acoustic instruments.
Three modes, setlists, and gig view
The Neural DSP Quad Cortex has three different modes that allow it to be adapted to any situation. In "Stomp Mode", the unit behaves like an analogue pedal board. "Scene Mode", on the other hand, controls any desired number of effect blocks within a rig, while "Preset Mode" allows direct access to up to eight virtual rigs. By creating so-called "setlists", the patches can be clearly organised and managed – each setlist can comprise up to 32 banks of eight presets each. This allows presets to be sorted by category, project, or album and recalled in seconds. Another practical feature is the Gig View function, which provides a full-screen view of the footswitches' current function.
About Neural DSP
Founded in Finland in 2017, Neural DSP regards itself as a developer and provider of computer-based solutions for the music industry. Inspired by innovative technologies such as advanced algorithms and machine learning, Neural DSP Technologies initially developed software plug-ins. New products have been released at regular intervals, most of which faithfully reproduce legendary amps or, in collaboration with popular guitarists such as Plini and Tosin Abasi, exactly reproduce their characteristic sounds. The Quad Cortex, the first hardware product from the still-young company, was released in 2021 and, true to the company's credo, is intended to bring artists a new level of creative inspiration through technological innovations.
A veritable workstation
With its huge number of high-quality amp simulations, over 1,000 cabinet simulations, numerous effects, and intuitive touchscreen navigation, the Neural DSP Quad Cortex is undoubtedly aimed at professionals who will put it through its paces in the rehearsal room, in the studio, or on stage. Besides delivering authentic sounds, this board also has impressive connectivity and will handle pretty much any application. Furthermore, the unique "Neural Capture Technology" means that the sound and behaviour of any amplifier or rig can be replicated, permanently saved, and recalled at will, so that the capabilities of the Neural DSP Quad Cortex will keep on growing.
For the stage and the studio
Whether in the studio, in the rehearsal room, or on stage, the Neural DSP Quad Cortex will always be up to the challenge, whatever the context – and will always impress thanks to its sophisticated operating concept, unparalleled routing flexibility, and clever features such as the footswitches with integrated rotary control function. Although designed primarily for guitarists and bassists, the Quad Cortex can also be used for processing vocals, keyboards, and many other acoustic instruments thanks to its phantom-powered microphone inputs.
This is what customers who viewed this product bought