Complete Drum Set
Roadshow series

9-Ply poplar shells with 7 mm wall thickness

Foil covered shells

Chrome shell hardware

Colour: Jet Black

Incl. sticks and stick bag
"Fusion" Shell Configuration:
22" x 16" Bass drum

10" x 08" Tom tom

12" x 09" Tom Tom

16" x 16" Stand tom

14" x 5.5" Snare drum
Additional Included Accessories:
Double-braced hardware

Foot machine with a double chain

A drummer's seat

Sabian Solar 14" Hi-Hat and 16" Crash

Stick bag

Sticks
Available since
June 2021
Shell Hardware Colour
Chrome
A complete package at a fair price
Pearl's new Roadshow series offers excellent and complete beginner sets at a fair purchase price. There are a total of three different shell configurations and since June 2021 it has also come with two different Sabian Solar cymbal sets to choose from. The 7mm shells are made of six-ply Asian white poplar wood and have a 45° bearing edge. An extensive hardware package from the 50 Series, consisting of double-braced hardware, a foot pedal with double chain drive, and a drum stool, is included in the scope of delivery. A stick bag and drums sticks are also included - so the sets come with everything you need for drumming.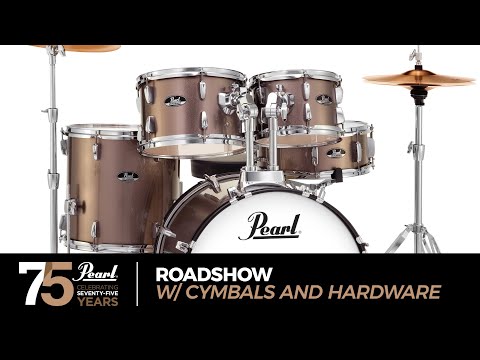 Sabian cymbal set included
A 22"x16" bass drum combined with 10"x8", 12"x9", and 16"x16" toms as well as a 14"x5.5" snare drum make up the largest shell configuration. A cymbal set from Sabian, consisting of 14" hi-hat and 16" crash as well as the required hardware, completes the package. This standard drum set offers a wide variety of sounds and, with its 7mm shells and its rich, cutting sound, is also suitable for louder genres. The white poplar wood used here is a popular material used in starter sets and can be compared to the characteristic properties of birch wood, with poplar wood sounding a little darker.
Getting the big boys started
The Roadshow 22" is the ideal choice for young or adult beginners. With its standard sizes, the complete set offers a wide range of sounds and enough power to make itself heard in the rehearsal room. The versatile sound and the excellent equipment also offer all sorts of opportunities to try out different styles and techniques - ideal for all beginners who know what they want right from the start. The Roadshow series also has a suitable drum set for children: The Roadshow 18" with smaller shells, so that even very young beginners can play comfortably.
About Pearl
The Pearl company was founded in Japan in 1946 and has been making drums since 1950. After initially manufacturing exclusively for other brands, it began to produce drums under its own name in the 1960s. Initially, the company was strongly oriented towards American models, but over the course of time, more and more of its own designs were developed, and ultimately established themselves on the market. Today, Pearl is one of the world's leading manufacturers of drums, percussion instruments, and accessories. A milestone in Pearl's history is the Export Drumkit, introduced in 1982, which is believed to be the best-selling drum kit of all time.
A set that grows along with your skills
The Roadshow 22" can be used in a variety of ways and already offers a wide range of sounds with the standard shell sizes and the included Sabian cymbal set. As your career as a drummer progresses, however, the beginner drum set can be upgraded at will. Additional effect cymbals such as a splash or china, a second snare drum model - a metal snare is ideal here for even more tonal variety - and additional toms or percussion instruments can be added to meet the growing skills of the beginner. Additional hardware, such as a double bass pedal, can also be considered.
This is what customers who viewed this product bought