Handpan
Tuning: D Amara (440 Hz)

Tones: D3/A3, C4, D4, E4, F4, G4, A4, C5

Material: Stainless steel

Professionally tuned

Handmade

Colour: Gold

Includes a padded bag with backpack straps
Available since
October 2020
Rhythm and melody
The Sela Harmony Handpan D Amara 202 is an ingenious combination of percussion and melody instrument with which harmonious, spherically sustaining sounds can be produced even without prior musical knowledge thanks to the fixed key, which provides only the correct notes. It consists of two thin stainless steel bowls that are shaped by hand and then assembled. On the top is the playing surface with the sound fields, and on the bottom there is a resonance opening in the centre. The manufacturing process of the Sela Harmony Handpans is extremely complex, as the tuner has to work on the sound fields with a hammer and tune them exactly to the specified note, with each tuned area affecting the tuning of the other fields. The stainless steel processed in this way offers optimum resonance vibration for long sustain.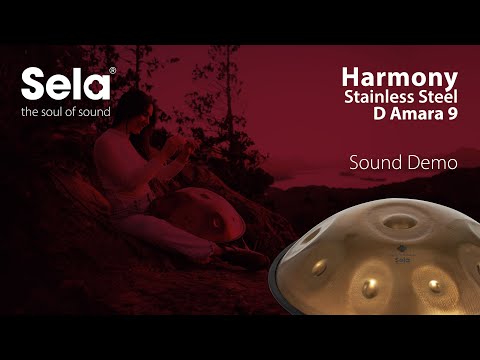 With intuition and gut feeling
Handpans are not only made by hand, but also played by hand. The small dome in the middle of the Sela Harmony Handpan D Amara 202 produces the lowest note (D3), also called the central note. Further to the outside are eight other sound fields arranged in a circle (A3, C4, D4, E4, F4, G4, A4, and C5), the sequence of notes of which follows a zigzag pattern from the player's point of view. All notes are on the bright-sounding D minor scale. The sound fields can be played by tapping or striking with your fingers or the ball of your thumb, and they respond sensitively and clearly to the slightest touch. Depending on where you hit the sound field, you can also create partial tones and use the "empty" areas between the tone fields for percussive accents. Handpans are usually played while seated and placed on the legs. Separately available stands allow you to play while standing and use several handpans at the same time.
As simple as a pan-cooked meal
The Sela Harmony Handpan D Amara 202 indeed has its price due to its complex production; nevertheless, it is by no means only suitable for professional musicians. Even beginners with no knowledge of musical notation can quickly coax fascinating soundscapes from this instrument thanks to its simple, intuitive use. And with a little practice and the right playing technique, complex rhythms, two-part melodies, and chords (e.g. Dm7, Dm, C, F, and Am) are also possible later on. There is something meditative and spiritual about playing a handpan. Their sound is soothing, somehow mysterious, and simply captivating. Apart from your own hands, only a little gut feeling is needed here to completely enchant the listener.
About Sela Percussion
With its motto "The Soul of Sound", Sela Percussion has been developing and producing exceptional cajons for discerning musicians for over 20 years. Sela cajons are manufactured and developed exclusively in Germany, to the highest standards of quality and with ease of use in mind. With innovative features such as the adjustable snare system, "clap corners", and the very practical "Pro Snare On/Off Mechanism", Sela cajons offer a wealth of sonic possibilities. Sela Percussion has now expanded its product range to include handmade handpans which, thanks to their ethereal sound, are guaranteed take both musicians and their audiences on a spiritual journey.
Robust everyday instrument
Due to its fascinating timbre, the Sela Harmony Handpan D Amara 202 is predestined for use in spiritual activities, for example in your yoga studio at home. Although this instrument sounds very good on its own, impressive sounds can also be created in combination with other percussion instruments or guitars. The gold-coloured stainless steel body is a real eye-catcher and actually withstands almost any weather. So a sudden rain shower during a street gig in the pedestrian precinct won't be a problem at all. According to the manufacturer, even weak acids - and therefore sweaty hands - cannot harm the Sela Harmony Handpan. Thanks to its fine, nuance-rich response, this special musical instrument is of course also ideal for recording sessions in the studio.