Portable 6-Track Audio recorder
Maximum recording quality: 24 bit / 96 kHz

Up to 6 channels can be recorded simultaneously

X/Y-Microphone capsule XYH-6 (included in the delivery)

Exchangeable clip-on microphones (available separately, not included)

4 x Mic / Line input (XLR / TRS combo socket) - expandable to 6 inputs with EXH-6 module (module not included in the delivery)

Integrated 2-6 channel USB audio interface

Supports SD / SDHC cards up to 32 GB and SDXC cards up to 128 GB

Colour: LC display

Built-in speaker

Stereo line output (3.5 mm jack)

Stereo headphone output (3.5 mm jack)

Power supply via 4x AA batteries (not included in the delivery) or USB

Dimensions of the H6 without microphone (W x D x H): 77.8 x 152.8 x 47.8 mm

Weight of the H6: 280 g

Includes XY-microphone capsule and quick guide
Available since
April 2020
Integrated Stereo Microhone
Yes
Storage Medium
SD/SDHC Card
Recording Format
BWF, MP3, WAV
Power Feed
4x LR6 (AA) batteries, USB
Dimensions
78 x 153 x 48 mm
Included In Delivery
XY Microphone Capsule
Six channels "to go"
The Zoom H6 Black is a versatile mobile digital recorder that can simultaneously record up to six audio tracks. It features four independent mic/line inputs in XLR/jack format, and each channel can supply 12, 24, or 48 V of phantom power, thus allowing high-grade studio microphones to be used without an external power supply. The remaining two channels are equipped with an XY stereo microphone (XYH-6), which, much like a camera lens, can be removed and replaced either with a mid-side microphone (MSH-6) for better control of the stereo field, a shotgun microphone (SGH-6) for increased directivity, or a module featuring two additional XLR/jack inputs (EXH-6). The Zoom H6 Black will thus appeal to anyone looking for a high-performance and easily transportable multi-track recording solution.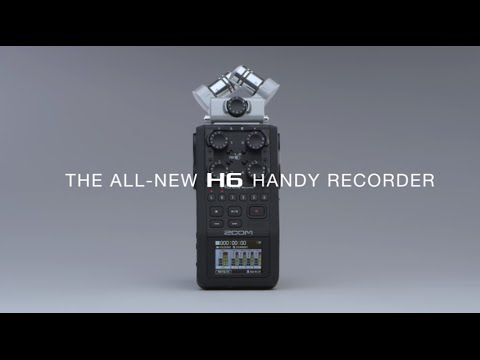 The ultimate portable multi-tracker
The Zoom H6's preamps have plenty of gain and an excellent signal-to-noise ratio, indispensable for optimum-quality recordings. The H6 also features a colour LCD screen that provides easy access to a variety of functions, such as auto-record, pre-record, back-up and saving commands, and the activation of onboard effects such as the low-cut filter, compressor, and limiter. Audio data can be stored as high-resolution WAV files (at up to 24 bit/96 kHz resolutions) or as MP3 files at selectable bit rates (48 kbps to 320 kbps). All files can be backed up to SD, SDHC, and SDXC cards with a storage capacity of up to 128 GB (not included as standard). The Zoom H6 Black may be powered by four AA (LR6) batteries, which will provide over 20 hours of battery life. However, should you be using several microphones that require phantom power, it might be preferable to connect the H6 to an external battery or even to the mains via its USB socket.
Compact and powerful
With its six input channels and excellent preamps, the Zoom H6 Black will always provide top-quality multi-track recordings, whether on the move or in the comfort of the studio. The Zoom H6 is a versatile, professional-level multi-track recording solution for musicians who want to record song demos, rehearsals, or concerts and for podcasters, journalists, and filmmakers looking to record on the go. It is also much more compact and ergonomic than the regular setup of a laptop/tablet coupled with an audio interface. Furthermore, the Zoom H6 also functions as a 6-in, 2-out audio interface for PC, Mac, and iOS devices.
About Zoom
Founded in 1983, the Japanese company Zoom manufactures a variety of audio equipment, including a range of portable "handy" recorders as well as multi-effects processors, effects pedals, drum machines, and samplers. Over the past thirty years, the company has built a reputation for producing innovative yet affordable products based on original microchip designs. Since the Zoom-9002 (an ultra-compact multi-effects processor that can be attached to a guitar strap) was introduced in 1990, Zoom has become one of the leaders in digital audio processing.
The best sound in the picture
Filmmakers know that audio quality is an essential factor when recording videos, especially if you need to record multiple channels simultaneously. Although its dimensions of 77.8 x 152.8 x 47.8 mm and its weight of 280 g place it amongst the "larger" recorders in its class, the H6 can nevertheless easily be fixed to a camera using a hot shoe adapter and provide the optimum multi-track recording conditions for your film. It can also be mounted on a dedicated stand and its monitor output sent to the input of a DSLR, thus saving the picture and soundtrack simultaneously to the same video file – while still allowing you to rework the audio on separate tracks in post-production. The independent headphone output is particularly useful for monitoring in this scenario.
This is what customers who viewed this product bought