Multi-Effects Pedal for Electric Guitar
55 Classic and modern high-quality guitar amp models

Non-linear amp modelling technology with real tube amp sound, feel and response

26 Classic and modern impulse response (IR) speaker simulations with additional support for third-party IR files

151 Different classic and modern effects: Drives, compressors, noise gates, EQs, modulation, wah, pitch, filters, delays, reverbs and more

Up to 9 types of effects can be used at the same time

Large, easy-to-read LED colour display

80 Second phrase looper

Modern drum computer with 40 drum patterns and 10 metronome rhythms

Integrated expression pedal for easy setting of the effect parameters

Up to 200 preset patches can be saved

Tap tempo function

Easy-to-read chromatic LED tuner (435 - 445 Hz)

USB connectivity for editing, direct audio recording (DAW) and software updates on PC/Mac

Programmable outputs for easy integration with any live or studio setup

Headphone output and AUX input for playing and jamming to tracks from external devices

OTG function supports smartphone and tablet software for direct audio/video recording and live streaming

Sampling rate: 44.1 kHz

Sampling resolution: 24-bit

Robust housing made of ABS (top part) and aluminium (bottom)

Dimensions (W x D x H): 230 x 156 x 32.8 mm

Weight: 1 kg

Power supply unit included (9 V DC 300 mA)
Connectors:
Inputs: 6.3 mm jack

Outputs L/R: 6.3 mm mono jack

AUX in: 3.5 mm stereo jack

Headphone output: 3.5 mm stereo jack

OTG port: Micro USB

USB port: Type B USB
Note: Battery operation is not supported.
Note: The editor software for Windows / Mac can be downloaded from the download area at the bottom of this page.
Available since
August 2020
A huge range of sounds at a small price
Harley Benton is known for products that offer an excellent price-performance ratio. Accordingly, the Harley Benton DNAfx GiT gives guitarists a wide selection of sounds at a budget-friendly price. This highly compact and lightweight floor unit, which operates according to the impulse response principle, combines a modelling amplifier, an effects unit, a looper, and speaker simulation in one. Thanks to its micro-USB port, it can also be used as an audio interface for recording to a computer, mobile phone, or tablet. Practising and jamming while on the go are also no problem, as the DNAfx GiT additionally features an AUX input and a headphone jack – so your creativity has free reign, wherever you are.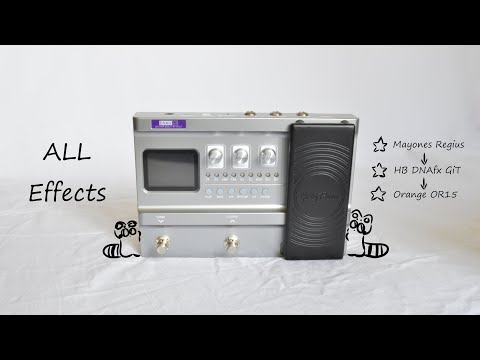 A clear effect chain
The DNAfx GiT has a fixed effect chain, which is logically structured from nine different blocks. The chain comprises 151 freely selectable effects, 55 amplifier simulations, and 26 speaker simulations, which can be complemented by impulse responses by third-party manufacturers. The two footswitches for "Bank up" and "Bank down" can be used to switch between presets, and the tuner and looper can be activated by pressing and holding down the respective switch. The B-type USB interface makes programming possible both on the device itself and via computer – allowing players to assign the desired parameters to the integrated expression pedal, for example. The device is equipped with two ¼" (6.35 mm) jack outputs that allow both mono and stereo operation, and its micro-USB OTG (USB On The Go) port means it can be used as an audio interface for recording to a computer, mobile phone, or tablet.
An affordable point of entry into the world of modelling
Affordable multi-effects and amp modelling units like the DNAfx GiT can be particularly interesting for ambitious beginners who have not yet decided what style of music they want to make – or just don't want to commit themselves to one genre yet. The generous selection of amplifiers and effects available here opens up new avenues for players' creativity, allowing them to find their own sound and experiment freely. The DNAfx GiT is also a great choice for guitarists looking for an affordable and compact all-in-one solution for practising and jamming both at home and on the go, or for recording their creative ideas quickly and easily, wherever they are.
About Harley Benton
Since 1998, the Harley Benton brand has been catering for the needs of numerous guitarists and bassists. In addition to an extensive range of stringed instruments, Thomann's house brand also offers a wide choice of amplifiers, speakers, effect pedals, and other accessories. In total, the range includes over 1,500 products. Built by established names in the industry, all Harley Benton products combine quality and reliability at attractive and affordable prices. The continuous expansion of the range ensures that Harley Benton always provides new, exciting, and innovative products that keep players perfectly in tune with the musical world, day after day.
The right sound at all times
Features such as the AUX input for playing back pre-recorded tracks, the built-in drum machine with metronome function, and the integrated looper make the DNAfx GiT the perfect companion for practising and jamming anywhere, whenever you have the time. All of this can be done silently using the headphone output, of course. Players can also record to their mobile phone using the integrated audio interface and micro-USB port while on the go. The DNAfx GiT's broad tonal palette also makes it ideal for putting together song ideas at home and recording them on your computer, however, and it also makes a great portable backup unit for on-stage performances if your main rig should malfunction. After all, it encompasses a complete signal path, but it can also be used as a simple multi-effects unit.
In the spotlight: Impulse response
The process of digital convolution utilises so-called impulse responses, which comprise information about the frequency response of a room or a device. This information is determined using a test signal and measured at the output. An arithmetic operation blends an effective signal with one of these impulse responses, and the latter's frequency characteristics are imposed on the former. Modern processors allow convolution to take place in real time, and this is used for the simulation of different types of rooms and speakers in particular.
This is what customers who viewed this product bought