This item runs exclusively on an operating voltage of 230 and therefore requires a voltage transformer to run in your country of United States.
Electric Guitar Amp Head
The highlight of this 4-channel all tube guitar amp head is the "Smart rotary control" technology, which lets you store up to 128 presets and recall them with the tap of a toe.
Power: 40W

4 Channels: Clean, Crunch, Lead, Ultra

Smart rotary control: Storage capacity of all controller settings

Power Soak: Switchable to 20 W / 5 W / 1 W / 0 W

Preamp tubes: 3x 12AX7

Power amp tubes: 4x EL84

Tube Safety Control (TSC): Monitors the tubes and ensures tonal stability and longer service life of the tubes

128 Programmable presets

Inspired by Triamp 3 Deluxe tone technology

Integrated Red Box AE Di-Box with authentic speaker simulation

On-board studio-quality effects: Reverb, Tap delay, Flanger, Phaser, Chorus, Tremolo

MIDI In / Out - all sounds of the stored controller values ​​can be retrieved via MIDI

Passive 3-Band EQ, Presence & Resonance

Switchable / adjustable Noise Gate

Weight: 7.7 kg

Dimensions (W x H x D): 445 x 170 x 150 mm

Includes soft-bag

Free app for Ipad GM40REMOTE

Matching MIDI board FSM-432 MK III: Article Nr 555003 (not included)
available since
September 2016
Power Amplifier Tubes
EL84
Tube amp technology for the modern age
Back in 2012, Hughes & Kettner delivered a master stroke with its GrandMeister series of all-tube amplifiers. The current model, the Deluxe 40, provides 40 watts of power that can be reduced in several increments, four channels, integrated effects, onboard speaker simulation, MIDI, and most importantly the ability to store the settings that have been dialled in. The result is a wealth of sounds normally only associated with digital devices, but delivered here through 100% all-tube technology. Despite these impressive capabilities, however, the GrandMeister Deluxe 40 tips the scales at a comfortable weight of just 7.7 kg.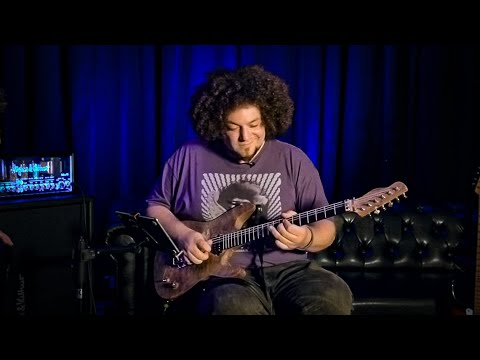 Deluxe features, 40 watts on tap, and turbo-charged effects
The GrandMeister Deluxe 40's dedicated Clean, Crunch, Lead, and Ultra channels provide the right texture for every situation, and the basic sounds can be further enhanced using the amp's boost function, classic three-band passive EQ section, and Presence and Resonance controls for the power stage. This is achieved using all-tube circuitry based on three 12AX7s and four EL84s. What is more, the settings for the entire range of parameters can be stored, which is not only extraordinary for this type of design but also dramatically increases the amp's sonic versatility, resulting in a total of 128 possible sound settings that can be conveniently accessed via MIDI program switching commands. The amplifier can even be controlled wirelessly from an iPad using a free iOS app and the optional WMI-1 MIDI interface (from the studio mixing room, for instance). And as if that were not enough, the GrandMeister Deluxe 40 also features an adjustable noise gate as well as reverb, delay, and modulation effects, all of which can be used simultaneously - and the settings can of course also be stored. Put it all together, and you have an amp that can replace multiple accessory devices in practice.
Universally usable across multiple genres
With its immense sonic versatility, the four-channel GrandMeister Deluxe 40 is not limited to any one genre or application, and its expansive sonic palette will easily cover everything from Pop, Funk, and Indie through to Rock and Metal. Thanks to the amp's auxiliary effects section and the option of storing their settings, the player can perfectly adapt it to their playing style and instrument as well as to the song and the application. All of these virtues make the GrandMeister Deluxe 40 both a professional tool for on-stage performances and a sonic Swiss army knife in the studio, as well as an ideal solution for musicians who are on their way up the ladder.
About Hughes & Kettner
Hughes & Kettner is one of the largest German suppliers of guitar and bass amplifiers. Founded in 1984 by Hans and Lothar Stamer under the name Stamer Musikanlagen GmbH, the manufacturer from St. Wendel in the Saarland can boast of its numerous innovations. For example, its first venture into the field of guitar amplifiers, the ASR64 from 1986, was the first programmable amplifier in the world. Thanks to its compact format, the Cream Machine of 1987 can be counted among the very first mini tube amplifiers. Equally influential were the Red Box analogue speaker simulation, the first six-channel amplifier (the Triamp), and the ZenTera, which used modelling technology in an integrated amplifier even before Line 6.
For the stage, studio, rehearsal room, and at home
With 40 watts of power on tap, the GrandMeister Deluxe 40 is potent enough to be used both on stage and in the rehearsal room. At the same time, its adjustable power-scaling feature allows it to be operated more quietly at 20 watts, five watts, or even one watt. Conversely, this power soak function can also be used to deliberately push the amp's power stage into saturation, e.g. in the studio. It is equally possible to completely deactivate the power stage, which in combination with the onboard speaker simulation allows you to record noiselessly. Should a greater power output be needed, however, the GrandMeister Deluxe 40 can be connected to a larger power amplifier using the line output. And the multi-stage effects section will be a valuable asset in any situation - at home, recording your ideas, in the rehearsal room, or on stage. This includes the most important digital standards as well as a noise gate, and your settings can be stored together with the corresponding sound. And to put the icing on the cake, an effects loop is also provided in order to allow further effects to be added.
In the spotlight
Tube amplifiers with storable settings
The ability to save one's settings is by no means unusual these days. Tube amplifiers with full storage capability, on the other hand, are still a rarity. This is due in part to their components, which have to be suitable for high voltages without having a negative effect on the resulting sound. The GrandMeister Deluxe 40 employs conventional potentiometers that are operated in the same way as those of any other amplifier, and the settings are stored using a network of resistors. When the player switches to a different memory slot, the controllers' last saved position is visualised by an LED on the front panel.
This is what customers who viewed this product bought