Complete E-Drum Set
550 Voices

30 Preset Kits

20 User Kits

100 Songs

2 User Songs

Quick Record

Metronome

Equalizer per kit

Pitch

Reverb

Compressor

6 Faders for volume control of individual pads, metronome and songs

2 x 6.3 mm Jack main outputs

1x 6.3 mm Stereo jack headphone output

1x 3.5 mm Stereo jack line input

2x 6.3 mm Stereo jack trigger inputs (already occupied by second crash and fourth tom pad)

USB MIDI

USB memory

MIDI In & Out

WAV sample import

Required floor space: approx. 140 x 80 cm
Set configuration:
1x 10" Two-zone mesh head snare pad

2x 08" Two-zone mesh head tom pad

2x 10" Two-zone mesh head tom pad

1x 08" Mesh head bass drum pad

2x 12" Two-zone crash cymbal pads with stop function

1x 12" Three-zone ride cymbal pad with stop function

1x 12" Hi-hat pad with controller on stand
Included hardware:
Drum rack

Hi-Hat machine

Foot machine

Power supply

Wiring

1 Pair of sticks
Note: The life of the bass drum pad's mesh head head is greatly extended by using the black plastic side of the bass drum mallet. The bass drum mallet can be rotated 180 degrees with little effort by loosening the locking screw. Using the felt side, on the other hand, significantly accelerates abrasion and thus possible tearing of the mesh head.
Available since
July 2018
Generous features and low noise levels
The Millenium MPS-850 is a very extensively equipped electronic drum set whose six drum pads all are equipped with mesh heads. These woven material heads provide a playing sensation that comes very close to the feel of playing an acoustic drum kit, while also being relatively quiet. These features, when combined with the use of some headphones, make this an ideal practice drum set to use in your own home. This kit is also interesting for sound afficionados, who can draw from a stock of 550 sounds and use individual sound processing effects such as compressor, reverb, equaliser, and pitch.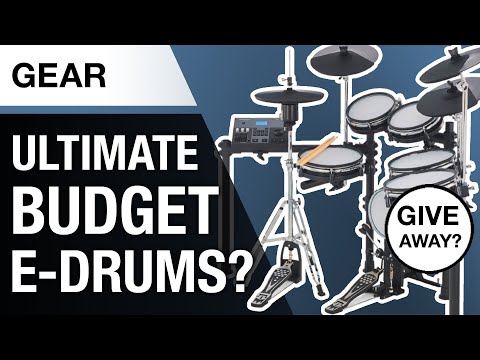 Unlimited fun with 100 play-along songs
The MPS-850 offers 30 preset drum kits, which include acoustic kits, electronic drums, percussion sets, and effect sounds. If you want to select from the 550 internal sounds in order to make your own kits, you also have 20 storage slots at your disposal. 100 play-along songs, which range from Mambo through Metal and cover all imaginable styles, provide a real band feeling, and of course there is also a "Quick Record" function on board with which your own recordings can be made in no time. In a similar vein, drumming along with your personal favourite songs is also really fast and easy: Simply connect a CD player or a smartphone to the audio input – and you're done!
Start out at a high level
People who are starting out with drumming and are looking for a practice instrument that is suitable for the long term and will inspire them get just that with the Millenium MPS-850, which provides a wide range of features at a very affordable price. The option of importing samples as WAV files in order to integrate your favourite sounds into your playing is usually only offered by the most expensive e-drum sets, and the fact that the hi-hat is playable using a conventional pedal is another feature that one normally finds only at the higher price points. All of the pads are equipped with two different sounds each, and the ride cymbal even has three. Despite the numerous features, the MPS-850 is extremely easy to operate, which heightens the joy of playing even further.
About Millenium
Millenium is one of Thomann's in-house brands and has been an integral part of the store's range since 1995. More than 800 products – from drums and percussion through to accessories such as microphone stands, racks, and recording workstations – bear the Millenium label. These products are made by renowned companies who also manufacture products for other well-known brands. Since they are imported directly from the factory without any further distributors or sales companies, they can be sold at particularly attractive prices. Incidentally, one in every four Thomann customers has already purchased at least one Millenium product.
Even the neighbours will love the MPS-850
Due to the fact that the Millenium MPS-850 is completely equipped with mesh heads, the noise level when the pads are hit is kept comfortably low – a delight for any neighbours. This means that, by using a suitable pair of headphones, you can practise at pretty much any time of the day or night, which will benefit both drum students and hobby drummers who simply want to spontaneously play along with their favourite music. Of course, the kit can also be expanded by adding an active speaker, so you can also let others know how much you enjoy playing drums, or even use the MPS-850 as an alternative to an acoustic drum set during band rehearsals.
This is what customers who viewed this product bought