Active Studio Monitor Set
5.25" (133 mm) woofer with Kevlar cone

1"(25 mm) tweeter with silk cone

Power: Class AB power amplifiers with 45 / 35 W

Frequency range: 53 - 22,000 Hz

Gain control

Input impedance: 10 kOhm

Mid-range controls: Peak EQ, 1 kHz, +/- 6 dB

Treble controls: Cow tail filter, 4.5 kHz, +/- 6 dB

Switchable highpass filter: 80 Hz - 100 Hz

Acoustic-Space switch: -2 dB, -4 dB

Crossover frequency: 3 kHz

Maximum continuous SPL 102 dB

Input: XLR and jack (balanced) and RCA (unbalanced)

Shielded against RF interference

Switch-on delay

Output current limiting

Overheating, transient and subsonic protection circuit

Dimensions (W x D x H): 178 x 198 x 260 mm

Weight: 4.63 kg

Includes: 2 Monitors (1 pair)
Available since
June 2013
Amplifier power per unit (RMS)
70 W
Analogue Input (Jack)
Yes
Analogue Input (Mini Jack)
No
Manual frequency correction
Yes
Frequency range min.
53 Hz
Frequency range max.
22000 Hz
Dimensions in mm
178 x 198 x 260
Speaker Hous8ing - Woofer System
Bassreflex
Accurate studio monitoring
The Presonus Eris E5 is an active studio-grade monitoring system consisting of a pair of bi-amplified speakers, each equipped with a 5.25" woofer and 1" tweeter. A standard reference within the Eris series, the E5 is unusually well-balanced and natural sounding for a speaker in its price range. It provides precise stereo imaging with high gain reserves, and its extensive and well-thought-out filter section is designed to seamlessly adapt the basic sound of the E5 to the acoustics of any environment. Anyone looking for a reliable studio monitoring solution at a budget-friendly price should definitely consider the Presonus Eris E5.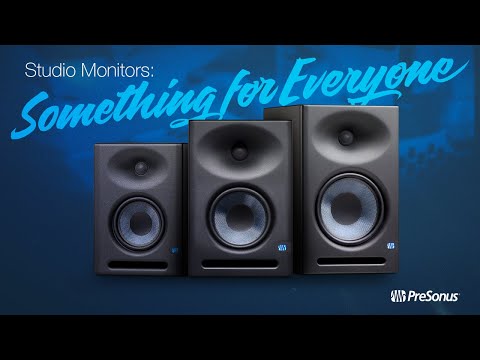 The right components for a well-balanced sound
The Presonus Eris E5 is fitted with a carefully designed and solidly built bass reflex cabinet made of vinyl-laminated MDF. As with all the Eris models, the woofers are made of Kevlar, producing a clean and precise bass response and even diffusion through all the lower frequencies. Similarly, the silk dome tweeter reproduces all the high frequencies in a very natural way and provides a wide sweet spot in the listening position. Two separate class AB amplifiers respectively provide 35 and 40 Watts of power to the tweeter and woofer. The Eris E5 is also available in an XT version, with a larger bass reflex cabinet and a waveguide for the tweeter.
Ideal for the home studio
The Presonus Eris E5 is a reliable, no frills, and affordable monitor, perfect for the home studio. We all know the complexities involved in improving the acoustics of a room, especially when the latter is not initially designed with music or postproduction in mind. The Eris E5's crossover section is a great help in this respect. Its switchable low-cut filter suppresses unwanted resonant low frequencies (for example when the speaker is placed close to a wall) and two continuous filters adjust the midrange and treble by plus or minus 6 dB. In addition, the automatic "Acoustic Space" function cleans up the often critical low-midrange and ensures that the sound is reproduced as faithfully as possible.
About Presonus
Presonus is a US company founded in 1995 by Jim Odom and Brian Smith in Baton Rouge, Lousiana. The firm designs hardware and software at both professional and more affordable levels for musicians and producers. Presonus first made a splash in the mid-1990s with the DCP8, an eight-channel analogue compressor/limiter/gate with fader and mute automation that could be digitally controlled by MIDI. In the early 2000s followed a series of microphone amplifiers and the first audio interfaces for the then-emerging home studio scene. Today, the company's product range includes audio interfaces, microphone preamps, digital mixing consoles, and studio monitors as well as the established DAW software Studio One.
Extensive connectivity
As a rule, a pair of Eris E5s are connected to the stereo analogue output of an audio interface or monitor controller. Each speaker is fitted with both a 6.3 mm jack and an XLR input, thus eliminating the need for an adapter. The inputs are balanced and provide 4 dBu of gain as a reference level, as is to be expected from studio equipment. Additionally, the Eris E5 is also fitted with an unbalanced -10 dBV RCA input, which allows hi-fi equipment to be connected.
This is what customers who viewed this product bought