This item runs exclusively on an operating voltage of 230V and therefore requires a voltage transformer to run in your country of United States of America.
Tube Head for Electric Guitar
1 Channel

Power: 15 watts with power reduction to 7 watts

Class A circuit

Preamp tubes: 2x 12AX7

Power amp tubes: 2x EL84

Indicator tube: 1x 6E2

Controls: Gain, Bass, Mid, Treble, Volume

Boost switch

Foot switch connection for boost on/off

Speaker outputs 8 & 16 Ohm: 6.3 mm jack

Instrument input: 6.3 mm jack

Robust metal housing

Dimensions (W x H x D): 330 x 162 x 146 mm

Weight: 9.5 kg
available since
September 2020
Power Amplifier Tubes
EL84
15-watt lunchbox head with gritty tube tone
The popularity of so-called "lunchbox amps" is increasing all the time – which should come as no surprise, since these compact amplifiers boast a range of features to rival those of their larger counterparts whilst taking up only a fraction of the space. Harley Benton now presents the Mighty-15TH, a compact powerhouse that fits squarely into this category and guarantees authentic tube tone thanks to its class-A all-tube circuitry. What is more, its 15-watt output means it bridges the gap between living room, rehearsal room, and smaller stages. The Mighty-15TH comes in a robust metal housing and features a three-band EQ section, Gain and Volume controls, an additional Boost switch, and a power reduction switch that allows the amp's output power to be roughly halved. To make it look even cooler, this amp also has an indicator tube prominently placed behind its front panel, which displays the preamp's status and gain level by varying in brightness.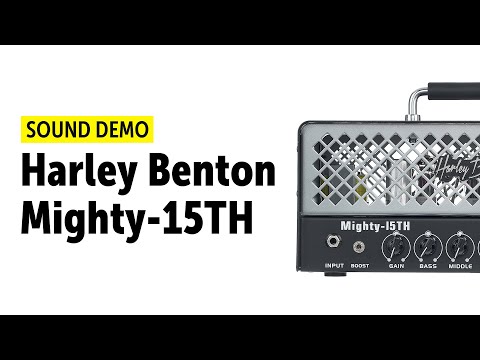 Get the tone you want in no time flat
The preamp stage of the Mighty-15TH features two 12AX7 tubes and can cover everything from glassy cleans through to punchy overdrive, all served up with a tube amp's characteristic open and dynamic tone through whatever speakers are connected. The Boost switch provides an extra portion of gain, while the three-band EQ is highly effective in shaping the amp's tone to suit the characteristics of the instrument being played. With its top-mounted metal carrying handle and four rubber feet, the Mighty-15TH is easy to transport and can be set down gently, and its rear panel features three outputs suitable for both 8-ohm and 16-ohm speakers, allowing various different cabinet types to be connected. The option of reducing the power stage's output from 15 to 7 watts is also a very practical feature which allows you to enjoy true power amp saturation from the two EL84 tubes at lower volume levels.
All-tube tone on a budget
The Mighty-15TH comes at the kind of affordable price that customers have come to expect from Harley Benton, making it perfect for beginners looking to enjoy all the benefits of a real all-tube amp right from the start as well as for advanced players who need a second amp either for home use or for rehearsals and small jam sessions. Thanks to its ease of operation, this single-channel amp lets you dial in a wealth of great tones in next to no time – from clear and warm to hard and heavy – and the three-band EQ section makes fine-tuning your sound child's play.
About Harley Benton
Since 1998, the Harley Benton brand has been catering for the needs of numerous guitarists and bassists. In addition to an extensive range of stringed instruments, Thomann's house brand also offers a wide choice of amplifiers, speakers, effect pedals, and other accessories. In total, the range includes over 1,500 products. Built by established names in the industry, all Harley Benton products combine quality and reliability at attractive and affordable prices. The continuous expansion of the range ensures that Harley Benton always provides new, exciting, and innovative products that keep players perfectly in tune with the musical world, day after day.
For gigs, the rehearsal room, or at home
With its robust and visually appealing metal housing and 6E2 indicator tube, the Harley Benton Mighty-15TH is ideal as an affordable amplifier for playing at home. Besides its compact dimensions, it is also remarkably easy to operate and combines characteristically dynamic tube amp tone with sufficient versatility to make it great for a wide range of musical styles. What is more, its 15-watt power stage means that when combined with the right speaker cabinet, this diminutive amp head is ready to rock both in rehearsals and at small gigs.
This is what customers who viewed this product bought