Transistor Combo For Electric Basses
2 Channels

Power: 10 Watt

5" Customised full frequency speaker

Closed cabinet

Controls: Volume, tone, gain

Switch: Normal / drive

Input: 6.3 mm jack

AUX input

Headphone output

Power supply via 6x AA battery or mains adapter

Dimensions (W x D x H): 240 x 150 x 170 mm

Weight: 1.3 kg

Colour: White

Incl. 9V 1200 mA power supply unit
Available since
November 2019
Compact companion
The MA-10B is the bass model from Joyo's range of practice amps. The Chinese company has given a lot of thought to what could make life easier for musicians and has combined this in the MA-10B. The result is a compact, lightweight, and extremely affordable companion for various situations, reduced to the essentials. This not only applies to indoor use, but also to outdoor musical activities thanks to the option of battery operation. To this end, the Joyo MA-10B can be comfortably slung over the shoulder like a handbag. Even dirty sounds are taken care of thanks to the integrated drive circuit.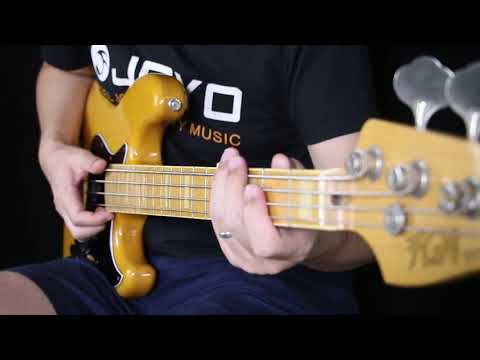 The minimalist
The Joyo MA-10B does not boast numerous features, yet it has everything a practice amp needs. The 10 watts of power are enough to be audible in the comfort of your own home. However, when silence is required, the MA-10B features a connection for headphones and an AUX in for external sources such as mobile phones, etc. This way, you can comfortably jam to your favourite songs without disturbing the neighbours. With the tone control, the sound can be made brighter or darker and easily customised to suit individual tastes. For distorted sounds, activate the drive channel, which includes a gain control. The MA-10B is powered either by a mains adapter or by batteries, the latter allowing up to three hours of music-making.
One amp for the whole apartment
With its compact dimensions and features, the Joyo MA-10B is primarily intended as a practice amp to be used at home. It is especially interesting for those who like to carry their amp around the house. If, for example, you feel like playing some bass while watching football, simply place the MA-10B close by on the coffee table. If you need a monitor for home recording, you can easily place the MA-10B on your desktop. And if the whole family pays a visit, it can be quickly stowed away in the cupboard or under the sofa thanks to its size (or lack of!) and low weight.
About Joyo
Chinese manufacturer Joyo is focused particularly on guitar amplifiers and effects - and produces an extraordinarily wide range of products. These include tube amplifiers for electric guitars, acoustic guitar amps, and all kinds of effect pedals. Classics like wah-wahs and distortion pedals, but also cab simulations, loopers, and digital wireless systems are always available at reasonable prices. The young company's products have already had success with well-known artists and made a lively circle of "endorsers" for itself, especially in the Metal fraternity.
Low end by the lake
Electric basses and the great outdoors usually don't get along too well due to the lack of power sockets for the necessary amplifier. Moreover, if you are on your way to the beach by foot or by bike, transporting a practice amp might turn into an exhausting task. However, the Joyo MA-10B is so small that it fits easily into a backpack or even a bike basket. Its weight of only 1.3 kilos also makes for easy and relaxed transportation. Thanks to the option of battery operation, you can then jam outdoors for up to three hours.
This is what customers who viewed this product bought