Upright Digital Piano
88 Weighted keys with hammer action and tri-sensor

Key surface: Synthetic ivory

5-Stage piano power MARS technology

Sounds 40 + 128 GM + 8 GM drum kits

256 Voices polyphony

90 Internal songs

Reverb

Chorus

Sequencer

Split mode

Metronome

Master EQ

Transpose function

Microphone input with effects

LC display

Internal MP-3 player/recorder

Speakers: 2x 30 watts and 2x 20 watts

3 Pedals

USB to host (Midi only, Windows 8 or later, Mac OS X 10.8 or later)

2 Headphone outputs

AUX In / Mic in

Stereo AUX Out

Dimensions: 1407 x 505 x 1062 mm

Weight: 74 kg

Colour: Black Matte
available since
November 2021
Pressure point simulation
Yes
Speaker Power
2x 30 W, 2x 20 W
Size
1407 x 505 x 1062 mm
The Thomann DP-140B U is a digital piano with 88 weighted keys, an ivory-feel keyboard, and tri-sensor technology, but the affordable price is the thing that makes it stand out in the first place. After all, players usually have to dig a lot deeper into their pockets for a typical upright piano - even for an electric one. Thanks to its low price, the DP-140 is particularly suitable for beginners who might still be on the fence about playing the piano in the long term. This digital piano definitely cuts a fine figure in terms of appearance, especially at home in the living room.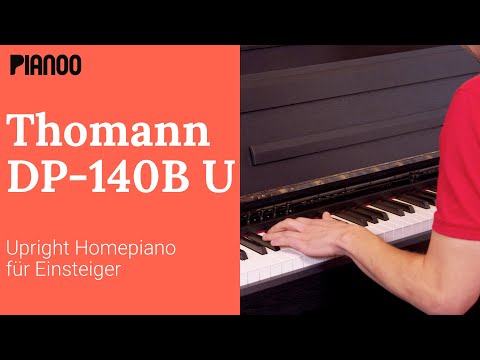 Built to last
Given the DP-140 B's upright design and weight of 52kg, there is enough room and resonant space inside for four speakers, namely two of 30W and two of 20W - a combination that ensures a rich sound. Players who are more familiar with acoustic pianos will be pleased with the sturdy, standard-type support for the sheet music on the inside of the keyboard lid, which closes slowly thanks to a so-called "soft close" mechanism: A classy and well thought-out detail. A microphone input in 6.3mm jack format with effects is also provided, which can be switched to AUX for external playback devices such as MP3 players, while MP3s can also be recorded and played back on the DP-140, even via USB stick.
A puristic piano
The Thomann DP-140B U features a 256-voice polyphony, 40 voices, 128 GM sounds, and 8 GM drum kits. The focus here is clearly on the sounds of acoustic and grand pianos, while the other sounds are more of an add-on for possible combination with a piano in "Dual" mode. A metronome and a sequencer are provided, along with EQ and effects sections, but this beautiful instrument is first and foremost about playing the piano. The three pedals (soft, sostenuto, and sustain) serve not only as on/off pedals but also offer a half-pedal function.
About Thomann digital pianos
Thomann-brand instruments, which are exclusively built by renowned manufacturers, now constitute a large part of Thomann's product range alongside numerous big-name brands. With unbeatable price-performance ratios, Thomann digital pianos are the obvious first choice for students and beginners – and others too. The technical features and uncompromising sound quality they offer are usually reserved for much more expensive instruments found in the professional market segment.
No danger of being a noisy neighbour!
The DP-140B U's optional piano mode mimics the sound of an acoustic piano: The string resonance is adjustable from 0 to 32 and there are six different levels of velocity sensitivity, so that everyone should be able to find the perfect setting to allow them to really express themselves while playing. The Twinova mode breaks the keyboard up into two sections with the same tonal range to allow for four-handed playing - a common occurrence in piano lessons. If a pair of headphones are plugged into at least one of the two headphone jacks (also 6.3mm), the speakers will be muted and the neighbours won't be bothered, however lively the playing gets.
This is what customers who viewed this product bought