Digital Piano
88 Weighted keys with hammer action and Tri-Sensor

40 Sounds

128 Voice polyphony

50 Styles

60 Internal songs

Reverb

Chorus

Sequencer

Dual mode

Split mode

Metronome

Master EQ

Transpose function

Speakers: 2 x 25 W, 2x 40 W woofers

3 Pedals

USB- MIDI

Headphone output

AUX in

AUX out

MIDI in/ out

Weight: 59 kg

Dimensions: 1400 x 490 x 915 mm

Colour: Matte black
Available since
August 2017
Pressure point simulation
Yes
Stylish and versatile
With its matt black finish, the Thomann DP-51 B is not only a real gem in any living room, it also knows how to impress with its inner values. With many features and functions you'd normally only find in much more expensive models, it is a classy and versatile replacement for an acoustic piano and much more besides. Outstanding here is the price-performance ratio: A great sound, a high-quality keyboard, and many modern functions at a fair price.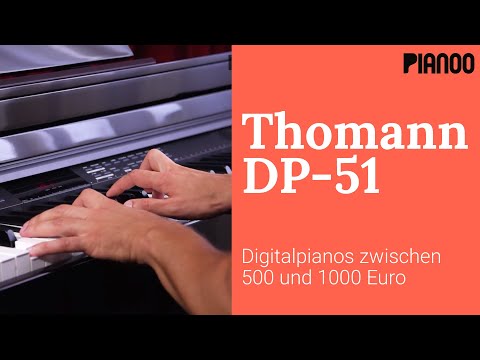 Perfect for beginners and advanced users
With its 40 tones, which include many other instruments such as organs, electric pianos, strings, and wind instruments in addition to various grand piano sounds, the DP-51 B offers a wide variety and inspires the creativity of pianists of all ages. There are several functions to ensure easy practice, such as the integrated metronome, the recording function for five of your own songs, and the Dual, Split, and TWINOVA modes for combining several tones or dividing the keyboard. And don't worry, good sound is always guaranteed, no matter if it is quiet or loud: The DP-51 B not only has two powerful loudspeakers, it also features two headphone outputs, through which you can play as quietly as a whisper - even four-handed!
Every note is a delight
A real highlight of the DP-51 B is its keyboard. With a hammer mechanism, adjustable touch sensitivity, and an ivory feel coating for great grip, it offers a high-quality and authentic playing feel that both beginners and advanced players will appreciate. With three sensors per key, the tri-sensor technology ensures a fine and precise response - regardless of whether you are performing a piano sonata or a boogie-woogie. Thanks to its 128-voice polyphony, the DP-51 B masters even challenging arrangements with ease - even if you make generous use of the three grand piano pedals.
About Thomann digital pianos
Thomann-brand instruments, which are exclusively built by renowned manufacturers, now constitute a large part of Thomann's product range alongside numerous big-name brands. With unbeatable price-performance ratios, Thomann digital pianos are the obvious first choice for students and beginners – and others too. The technical features and uncompromising sound quality they offer are usually reserved for much more expensive instruments found in the professional market segment.
Extremely adaptable
The DP-51 B includes 60 built-in rehearsal pieces from various genres. During playback, the left and right hands can be muted separately so you can play them yourself. Another way to practise with playback is to play music from a music player or smartphone through the digital piano's AUX input. There is also an auxiliary output, providing a connection to an amplification system or a recorder. And the DP-51 B is also compatible with computers: It has both MIDI inputs and outputs as well as a USB port so that it can be easily used together with your computer's music software.
In the spotlight: TWINOVA mode
The DP-51 B's TWINOVA mode is very suitable for teaching. Similar to the split mode, the keyboard is divided into two areas. Unlike in Split mode, however, these are not assigned two different sounds, but rather the same sound in an identical tonal range. This allows teachers and students to sit next to each other, and both have access to the same pitch range. Very convenient!
This is what customers who viewed this product bought