Handpan
D - Celtic Minor

Material: Stainless steel

Frequency: 440 Hz

Notes: D/ A, C, D, E, F, G, A, C

Diameter: 53 cm (with rim 57 cm)

Height: 27.5 cm

Weight: 4.2 kg
Note: Colour may vary due to the manufacturing process
available since
December 2021
Spherical soundscapes
The Thomann Handpan D Celtic Minor combines rhythm and melody in one instrument. What sounds complicated at first is easy to master, even for beginners without any basic musical knowledge. The fixed key of the handpan only includes notes which are tuned to each other, so that even beginners can intuitively learn to play exciting melodies on it in no time. In combination with the esoteric, sustaining sound of the handpan, a meditative and downright captivating atmosphere is quickly created. The central note of the Thomann Handpan D Celtic Minor is tuned to D, surrounded by the notes A, C, D, E, F, G, A, and C. These are all based on the very popular D minor scale, which has a calming, relaxing, and not overly melancholic sound character.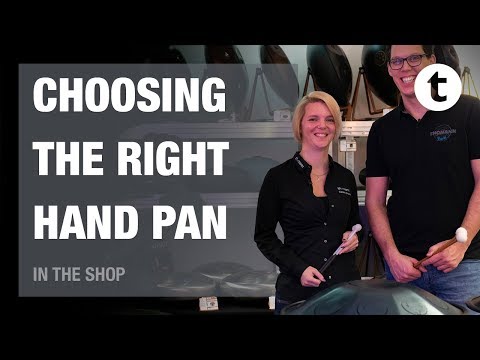 Handcrafted in more ways than one
Handpans are made of two wok-shaped stainless steel bowls. On the upper half, you have the playing surface with a total of nine note fields. The smooth bottom has only one resonance hole in the middle, as known from acoustic guitars. This special construction, combined with the lengthy tuning process by hand hammering, ensures the unmistakable sound, the long sustain, and the sensitive response of the handpan. It is mainly played with the hands (fingertips, ball of the thumb, etc.), but you can also use soft mallets to create additional tonal nuances. Depending on where and how you strike the playing surfaces, different frequencies and overtones can be emphasised. In addition, the areas between the note fields can be used for percussive accents.
A handpan for every level
Handpans certainly have their price, due to their complex and lengthy manufacturing and tuning process. The Thomann Handpan D Celtic Minor is one of the most affordable representatives of its genre, but this does not mean that you have to make any compromises in terms of sound, material quality, or workmanship. It offers an excellent introduction to the world of handpans and, thanks to its harmonic scale, requires neither knowledge of music theory nor a sophisticated playing technique. This makes it really suitable for everyone, from beginners to professional musicians, who wants to be enchanted by the sound of the handpan and escape the stresses and strains of everyday life for a while.
About Thomann percussion instruments
In addition to products from more renowned companies, Thomann now also dedicates a large proportion of its range to instruments that bear the store's own brand name and are manufactured by well-known and long-established companies. These include percussion instruments – from shakers and cajons through to handpans and drums authentically made in Africa – that offer an unbeatable price-performance ratio and are the perfect choice for students, beginners, and many others. These are characterised by features and materials normally found at much higher price points as well as by a thoroughly convincing sound.
Wide musical range
The mysterious sound of a handpan is ideal for relaxation and meditation, to accompany yoga sessions or for use in sound therapy. However, looking at it from a purely esoteric viewpoint does not do justice to the immense range of this instrument, as the Thomann Handpan can also be wonderfully combined with other instruments such as guitar or piano, with vocals, or with other percussion instruments. Combined with electronic elements, it can also be used to create atmospheric ambient or trance tracks. From hypnotic street gigs to studio recordings, anything is possible here. Played while sitting and placed on the thighs, any additional accessories become unnecessary. However, the handpan can also be placed on a suitable stand (e.g. for snare drums) if required.
In the spotlight: 440 or 432 Hertz tuning?
The Thomann Handpan D Celtic Minor is available in two versions: with 440 and 432 Hertz tuning. This number refers to the frequency of the standard pitch A, from which all other notes on the handpan scale are derived. The Thomann Handpan D Celtic Minor 440 offered here is tuned to the internationally valid standard pitch of 440 Hertz introduced in 1939, and can therefore be easily combined with other instruments. The 432 Hertz model sounds slightly lower due to the difference of 8 Hertz and is therefore not compatible with conventionally tuned instruments. For a better sound, this version of the Thomann Handpan D Celtic Minor should be played either individually or with instruments that are also tuned to 432 Hertz.
This is what customers who viewed this product bought