LED Theatre Spotlight
With Fresnel lens and 3000K colour temperature

Replaces conventional stepped lens spotlights of the 500 - 650 W class

Adjustable beam angle via manual zoom

Very quiet temperature-controlled fan for low-noise operation

Includes bracket, barn doors and mains cable
Technical specifications:
Light source: 100 W COB LED

Colour temperature: 3000 K

Beam angle: 15 - 45°

Colour rendering index: 95

Refresh rate LED: 10 kHz

Light output at a distance of 2 m (15°): 6350 lux

Control: DMX (1/2 channels)

Stand-alone operation can be set via display

DMX input and output: XLR 3-pin

Power input and output: Power Twist

Power supply: AC 100 - 240 V / 50/60 Hz

Power consumption: Maximum 115 W

Black aluminium housing

Dimensions: 260 x 185 x 160 mm

Weight: 5 kg
Available since
September 2017
Colour mix / Colour temperature
3000
Warm white, quiet, and portable
The Varytec LED Theater Spot 100 3000K provides comparatively powerful warm white light. Even the colours of the illuminated objects still appear quite natural thanks to its high CRI value - the spotlight is remarkably unremarkable, so to speak. This also applies to any background noise: It operates so silently that it is particularly suitable for environments where silence is key. Another practical feature is that the size of the light beam can be adjusted. The lamp also comes with lots of accessories: In addition to the slide holder and power cord, there is also a barn door attachment, a short DMX cable, and a power-twist connector. Customised cases are available for two or four spots. By the way, the housing of this version is black - if you prefer white, go for the identical Varytec LED Theater Spot 100 3000K wh.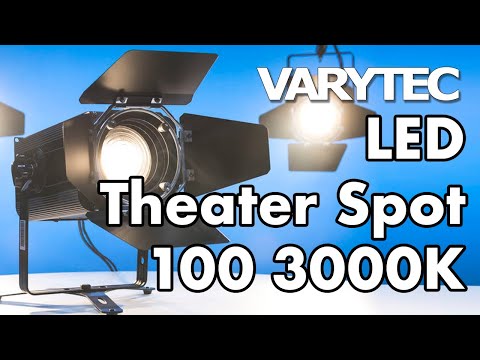 Flexible stage light with variable beam angle
The Varytec LED Theater Spot 100 3000K is equipped with a 100 W COB LED. Thanks to its Fresnel lens, it illuminates small sections of the scene as well as stage areas evenly. The beam angle is variable between 15° and 45° and can be adjusted with a focus control on the back of the casing. With its fixed colour temperature of 3000 Kelvin, the spotlight operates at its best when warm white lighting is needed. The refresh rate is 10 kHz. The Varytec LED Theater Spot 100 3000K weighs a mere 5 kg and can be operated via the menu buttons below the display on the housing or via a lighting desk. Since the spot has inputs and outputs for the power supply as well as for DMX data, the light can easily be integrated into a larger setup.
Surface illumination
Whether in the theatre, for lectures, or on a film set: The Varytec LED Theater Spot 100 3000K is suitable for scene surfaces that need to be illuminated evenly and without noise. Its performance is designed especially for small and medium-sized stages, where the spotlight can either be suspended or placed on a flat surface. Gallery owners can use the Varytec LED Theater Spot 100 3000K to set deliberate light accents using a narrow beam angle. Since several of these spots can be controlled simultaneously with just one or two DMX channels, travelling theatres and children's theatres can get by with a tiny lighting desk and nevertheless give an enjoyable performance. When used on the move, the lockable power-twist connectors facilitate a secure power supply.
About Varytec
Over the years, Thomann has greatly enriched its already extensive range of lighting products with its in-house brand Varytec. In addition to LED spotlights, theatre lighting, and moving lights, Varytec offers an arsenal of matching accessories. Tripods, cables, power distributors, and all kinds of other components are, like the lighting solutions themselves, manufactured by well-known names in the field. The firm's direct sales approach, which eliminates intermediate retailers, ensures that all of these products are nevertheless attractively priced. Varytec's range comprises well over 200 items, which will illuminate everything from home-streamer setups to photo studios, theatres, and concert halls.
Mobile lighting made easy
To evenly illuminate the performance area and control the light from the stage itself, a travelling theatre can simply use four Varytec LED Theater Spot 100 3000K units with a small DMX desk. First, two Millenium LST-310 lighting stands are placed at the left and right edges of the stage, then two spotlights are hung on each of the T-bar trusses. A small lighting console, such as the Stairville DDC-6 DMX controller, is placed at the edge of the stage. Next, its DMX output is connected to the input of the first spotlight and the following spots are connected in similar fashion in order for all of the spots to receive the DMX signal. A terminating resistor in the output of the last unit in the chain prevents interference. Finally, everything must be supplied with power - and the lighting can begin.
This is what customers who viewed this product bought