Studio Headphones
Construction: Closed-back, supra-aural

S02 MKII driver unit with bio-cellulose cone

Titanium-coated 40 mm driver

Frequency range: 20 - 20,000 Hz

Maximum power: 70 mW

Sound pressure level: 117 dB (SPL)

Impedance: 32 Ohm

E02 on-ear PU ear cushions

H02 Nylon headband

C02 Coiled cable with 3.5 mm jack plug and 1.5 m cable length

Weight: 190 g

Includes adapter from 3.5 to 6.3 mm jack plug and A01 protective pouch
Frequency range
20 Hz – 20000 Hz
Type Of Connector
Mini Jack
Get ready to hit the decks
The TMA-2 DJ headphones from AIAIAI are designed specifically for DJs and represent a fusion of the most ideal elements from the Danish manufacturer's catalogue: High-quality S02 drivers with 40mm speaker diaphragms, a rugged and comfortable H02 headband, E02 on-ear cups with PU leather cushions, and a C02 coiled black 1.5m thermo plastic cable. The latter features a 3.5mm jack connector, which can be expanded for 6.3mm connections using the threaded adapter that - together with an A01 protective pouch - is included in the scope of delivery. An impressive roster of professional users that includes Richie Hawtin, Marcel Dettman, Bonobo, and Charlotte de Witte is ample testament to how well this design works in practical application.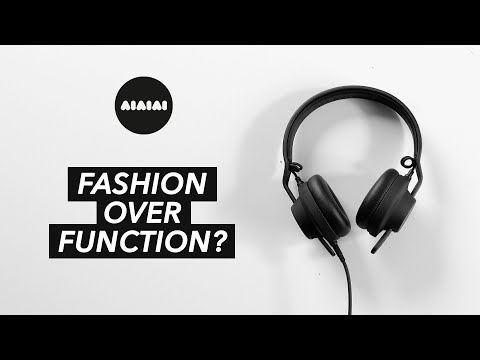 Rugged and versatile design
DJs need headphones to line up their next tracks and set the mix correctly, which of course means that these need a robust construction that will stand up to being constantly put on and taken off as well as to plenty of moving about behind the DJ booth. The TMA-2 DJ headphones are designed for precisely these conditions: The adjustable headband is made to provide an excellent grip and is extremely durable and flexible, while the on-ear memory foam cushions ensure a snug and comfortable fit as well as a high level of isolation. What is more, the design makes it easy to wear just one of the ear cups for monitoring purposes. To help keep things tidy, the cable - which can be extended from 1.5m to 3.2m - is connected on one side only and, thanks to the aforementioned 3.5mm to 6.35mm adapter, makes the TMA-2 DJ suitable for use with mixing desks and playback devices in both professional and home entertainment applications.
For a punchy and intense sound
As practical as its design may be, the TMA-2 DJ's priority is still the sound. The headphones' low-resistance, dynamic 40mm S02 drivers with their lightweight membranes made from stiff bio-cellulose (which also has an additional titanium coating) provide a balanced and high-fidelity sound representation that has outstanding clarity and resonance and is extremely free of distortion. The TMA-2 DJ headphones are also designed with an internal vent that is tuned to provide a clear and punchy middle bass response. At the same time, this on-ear system delivers up to 117dB SPL, making it perfect for use in loud club environments.
About AIAIAI
The Danish company AIAIAI was founded in 2006 and produces headphones exclusively. Instead of offering a wide variety of different headphone models, Aiaiai has developed a modular approach, by which components are individually selected in order to create a final, customised product. To this end, AIAIAI has an online configurator which tailors each pair of headphones to the customer's specifications. However, the idea is not only to create personalised headphones but also to ensure their sustainability. Instead of the user having to purchase a completely new pair of headphones if a defect occurs or if their application or sonic expectations change, AIAIAI offers its customers replacement, retrofit, and upgrade parts.
Expdandable and sustainable headphones for DJs
The TMA-2 DJ's target audience is already clear from the name, and AIAIAI has its sights on both professional DJs and discerning users in general here. The on-ear design ensures a high sound pressure level together with consistent sound quality and high isolation, and also makes these headphones easy to handle and comfortable to wear even for long periods. What is more, all of the TMA-2 DJ's component parts can be exchanged and replaced if necessary, and users can of course purchase other components (including different ear cups and wireless systems) in order to adapt the headphones to suit other applications. And it goes without saying that these headphones are an excellent choice for simply listening to music for pleasure.
This is what customers who viewed this product bought