Multi-effects pedal
Classic T-Rex effects & stereo looper for acoustic guitar in a compact housing

Fullband compressor

Classic warm chorus / detune

Delay with tap tempo

High-quality Hall algorithms with shimmer

Boost (post-effect)

3-band EQ

Automatic feedback suppression

Integrated chromatic tuner with fast recognition

Stereo Looper (5 min)

On / off switch with status LED for each effect

Expression / Volume pedal input

Input with gain control

Stereo L / R output

Balanced stereo XLR DI-outs

12 DC connector

Measurements: 445 x 60 x 150 mm

Weight: 2.1 kg

Incl. 12 V DC power supply
available since
July 2017
A good acoustic guitar sounds great when it is played unplugged, but achieving the same result when it is amplified often requires some additional help – not strictly in the form of actual effects but also of small enhancements to improve the sound. . The T-Rex Soulmate Acoustic has all of the tools needed to tackle this problem, including EQ controls, a compressor, and a reverb unit in addition to special features such as a chorus effect and a looper, all in a single compact housing. And since T-Rex has quite a reputation to uphold, the famous Scandinavian commitment to quality is also clearly on display here.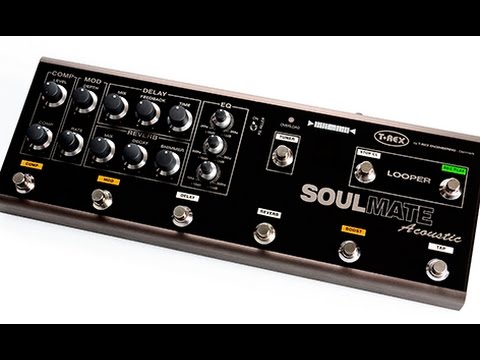 That certain something for your sound
The T-Rex Soulmate Acoustic utilises a three-band semi-parametric equaliser and a compressor to shape the sound of the guitar, while the adjustable boost function provides that extra volume needed for solo playing. The reverb unit only offers a hall-style setting, but what is lacking here in terms of variety is made up for in quality, and the reverb can be further enhanced using the "shimmer" control – itself a clear foray into effects territory – for more ethereal sounds. The palette is completed with delay (including a tap tempo feature) and chorus options. The looper is also much more than a simple bonus feature: It can be used to record up to five minutes of material in stereo, which can be combined with delay to create some very impressive soundscapes. A tuner and an automatic feedback kill switch are also included.
A powerful sonic tool
The quality of today's acoustic guitar pickups is very high, but these are still subject to certain limitations unless a little external help is provided, and this is where the T-Rex Soulmate Acoustic comes into play. The Soulmate provides a practical selection of effects to enhance the player's performance, and the whole concept is tailored towards live use, where guitarists will greatly benefit from both the boost function and the feedback kill switch. Thanks to its three-band semi-parametric EQ, the Soulmate gives musicians a powerful tool for shaping their sound, and the compressor, an often-underestimated feature, is perfect for creating a full sound as well as extremely easy to use since it features only two controls. Finally, the phrase looper is a clear nod from T-Rex towards acoustic guitarists who perform solo and create their own backing tracks.
About T-Rex
T-Rex is a Danish manufacturer of high-quality effects units that are primarily, but not exclusively, aimed at electric guitarists. The company was founded in 1996 and has developed into a leading niche manufacturer. The devices on offer by T-Rex are popular among demanding professionals and have been adopted by icons such as Steve Lukather and Mark Tremonti. In addition to their excellent sound, these effect units are also reputed for their durability, since only components complying with the highest standards are used.
Tried and trusted for the stage
With its feedback kill switch, tuner, and boost function, the T-Rex Soulmate Acoustic comes with many of the features essential for gigging musicians, so it goes without saying that it will be right at home on stage. The looper allows impressive rhythms to be laid down and complex sonic structures built up, and because the storage capacity allows up to five minutes' recording time, players can record fairly long tracks. The Soulmate will also fit easily into a more sophisticated setup with a PA thanks to its two XLR outputs, but of course it will sound equally outstanding when combined with a single acoustic amp.
This is what customers who viewed this product bought