Active near field monitor
Equipment: 7 "woofer and 1.9" U-ART ribbon tweeter

2x Class-D amplifier: 50W RMS woofer, 20W RMS tweeter

Frequency range: 39 - 25000 Hz

Crossover frequency: 2.6 kHz

Maximum level: 110 dB (1m / pair)

Back bass reflex opening

Connections: line input XLR and RCA

Dimensions (W x H x D): 210 x 347 x 293 mm

Weight: 7.1 kg

Price per piece
Available since
April 2018
Speaker size
1x 7", 1x 2"
Amplifier power per unit (RMS)
70 W
Analogue Input (Mini Jack)
No
Manual frequency correction
Yes
Frequency range min.
39 Hz
Frequency range max.
25000 Hz
Dimensions in mm
210 x 347 x 293
Speaker Hous8ing - Woofer System
Bassreflex
Adam Audio's T7V speakers were first launched in 2018 and scooped up a whole succession of prizes right away, including the 2018 MIPA Award, the TEC Award, and the IBC 2018 Best of Show award - an impressive achievement considering the speakers' affordable price point. In terms of quality, however, these "T-Rexes" take their cues from significantly more expensive speakers with 7" woofers and the "German Engineering" label.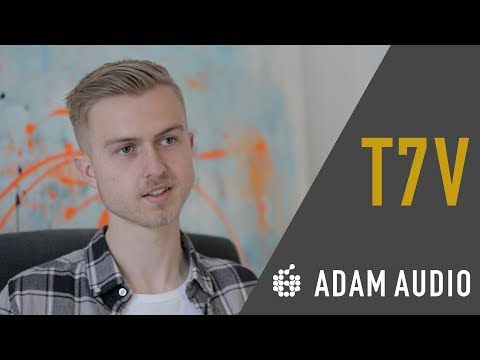 The ART of the tweeter
A special feature of all Adam Audio speakers is the ART (Accelerated Ribbon Tweeter), which allows long periods of operation without fatigue setting in. The tweeter's pleated ribbon design reduces breakup and distortion to a minimum and delivers an expanded dynamic range thanks to its effective surface area, which is 2.5 times larger than that of tweeter designs that are based on piston action. This design also produces a rapid and direct high-frequency response (even with complex transient frequencies) and a linear frequency response of 39Hz to 25kHz for the monitor as a whole. The cabinets' acoustically optimised design, complete with the characteristic bevelled edges, combines with the ART tweeter to give these speakers a very striking appearance.
For amateur producers and home studio owners
Given the number of awards that Adam's T-series speakers have picked up and the countless satisfied customers who have opted for a pair of T-series monitors, the price-performance ratio of these affordable speakers makes them a real bargain. That is precisely why the entire T series is perfect for all semi-professional producers, singer-songwriters, and bands looking to equip their studios with high-quality monitor speakers that won't break the bank.
About Adam Audio
ADAM Audio was founded in Berlin in March 1999 and has since been involved in the development, manufacture, and distribution of speakers specifically aimed at the professional audio industry. The company was founded following the development of the X-ART tweeter, itself based on the Air Motion Transformer created by Oscar Heil in the 1960s. Advanced Dynamic Audio Monitors (ADAM) has rapidly set new standards in the world of studio monitors. The company employs over 50 people in its Berlin factory, is distributed in over 75 countries, and has sales offices in both the USA (Nashville) and the UK. The list of renowned studios using ADAM monitors is long and still growing. ADAM Audio has been part of the Focusrite Group since 2019.
Perfect for home use
Users who are looking for a first set of monitor speakers for their home studio but only have a limited budget at their disposal should definitely take a closer look at the Adam Audio T7V. In this price range, buyers will be hard pressed to find a better option, and the difference between these and ordinary hi-fi or computer speakers (or headphones, for that matter) will become obvious during the first mixing session, if not before. These speakers respond to even the smallest tweaks in EQ and other parameters, so mixes can be analysed in immense detail. Users looking to upgrade their setup later on can of course also add a subwoofer or even create a complete surround sound system.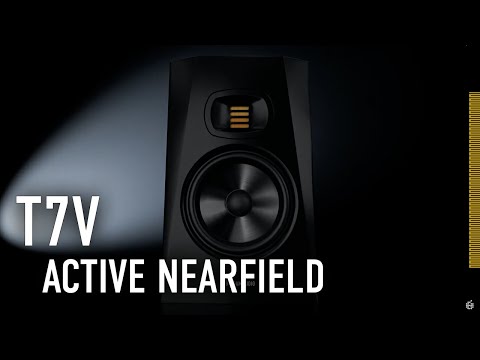 In the spotlight
ART
Unlike conventional and commonly found speakers that operate according to the piston principle, ART speakers (and Adam's corresponding X-ART, S-ART, and U-ART models, the latter of which is installed in the Adam T8V) feature a pleated membrane design that moves air four times faster, from which the name "Accelerating Ribbon Technology" is derived.
This is what customers who viewed this product bought