8- Channel Microphone Preamplifier
From the Scarlett series

With built-in 24 bit A/D converter

Up to 192 khz

8 Microphone/ line combined inputs: XLR/ Jack 6.3 mm

Input 1 and 2 can be used as instrument inputs

8x Line outputs: 6.3 mm Balanced jack

2 ADAT outputs

BNC Word clock input and output

48 V Phantom power

LED Display

Built-in power adapter

Design: 19"/ 1 U

Weight: 3.29 kg

Incl. Hitmaker Expansion Software Bundle (Ableton Live Lite, 3 months Splice Sounds membership and Plug-in Bundle for songwriting, mixing and mastering, Pro Tools Artist (3 months subscription) and Avid Complete Plug-in Bundle)
Hitmaker Expansion Plugins:
LANDR - AI-based mastering tool (two-month subscription)

Softube Marshall Silver Jubilee 2555 - Amp Sim

XLN Audio Addictive Keys - Virtual Keyboard Instruments

XLN Audio Addictive Drums 2: Studio Rock - Virtual Drum Library

Antares Auto-Tune Access - Vocal Tuning

Brainworx Bx_console Focusrite SC - Channel Strip

Focusrite Red 2 & 3 Plug-in Suite - EQ and Compressor

Relab's LX480 Essentials - Reverb
available since
March 2017
Number of microphone inputs
8
Affordable high-quality eight-channel preamp
The Scarlett OctoPre from Focusrite is an affordable yet high-quality compact eight-channel preamp unit that provides an extension for an existing audio interface (regardless of manufacturer). The staple preamps are the same as on the second-generation Scarlett series and provide up to 50 dB of gain and a clean and dynamic sound that is usually only found at higher price points. All the inputs are in XLR/jack combo format and allow mic or line-level signals, while two of the front sockets have switchable high-impedance inputs, so that instruments can be directly plugged in. Each channel is equipped with a pad for attenuating signals that are too hot, and thanks to the handy metering section, which consists of five LEDs per channel, gain staging is quite intuitive, and can be carried out on the unit itself. The OctoPre also comes complete with the Focusrite Hitmaker Expansion, a comprehensive software package that essentially gives you everything you need to carry out every stage of the production process on your computer, from beginning to end.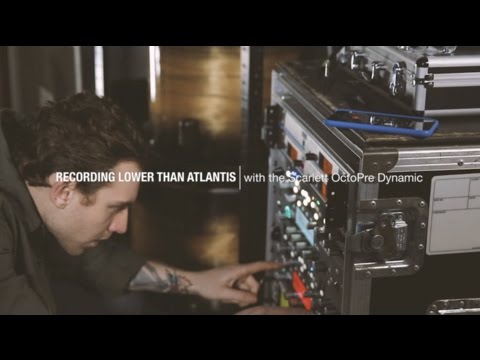 Internal conversion and ADAT connectivity
The Focusrite Scarlett OctoPre features high-grade internal converters which can operate at resolutions of up to 24 bit/192 kHz and can easily be connected to audio interfaces via the ADAT optical interface. The double ADAT output, coupled with the sample multiplexing function, allows all eight channels to transmit simultaneously at sample rates of up to 96 kHz. The word clock interface allows the unit to synchronise with other converters in the network – an operation also possible via the ADAT output, as long as the OctoPre is set as the master. If you wish to remain purely analogue however, the signal can simply be sent straight to the balanced line outputs without any conversion taking place.
The perfect recording rig upgrade
The OctoPre is budget-friendly, features professional-grade preamps and conversion, and will nicely upgrade any home or project studio equipped with an audio interface with ADAT connectivity. Its compact and sturdy construction, just one HU high in 19" format, also make it an excellent candidate for mobile recording. The neutral and clean sound of Focusrite's preamps has stood the test of time, making the OctoPre appealing to a wide variety of users.
About Focusrite
Founded in 1985 by Rupert Neve, Focusrite quickly made a name for itself with high-quality analogue consoles. Today, the company markets audio interfaces, mic preamps, consoles, analogue EQs, and channel strips as well as hardware and software for digital audio processing. The company is based in High Wycombe, England, and has won numerous industry awards. In addition to the Focusrite Pro line, the company also has subsidiaries that include Adam Audio, Novation, and iOS app creator Ampify Music.
A straightforward solution for extensive recording
If you need eight additional input channels to seriously track a drum kit, or even a whole band for that matter, the Focusrite Scarlett OctoPre is the perfect solution. Combining it with the Focusrite Scarlett 18i20, the flagship model of the series, puts a total of 16 premium-grade preamps at your disposal. If your audio interface has even more digital inputs, you could also cascade two or more OctoPre units, although, depending on the specifications of your hardware, you might be limited to lower sample rates.
Hitmaker Expansion
The Hitmaker Expansion contains software tools for further enhancing your music productions: Guitar sounds with Softube Marshall Silver Jubilee 2555, tuning options for vocals with Antares Auto-Tune, reverb effects with Relab's LX480 Essentials, the XLN Audio® Addictive Drums 2: Studio Rock kit, and a choice of one of four instruments from XLN Audio Addictive Keys. Additionally, an EQ and compressor are offered with the Focusrite Red Plug-in Suite, a full channel strip offering an EQ, de-esser, compressor, limiter, gate, and expander with Bx_console Focusrite SC, and finally, two months with the Landr Studio mastering tools with five free masters to add the finishing touch to your projects. With the Hitmaker Expansion, you get both the interface and a selection of tools, so you have all the software you need to get started.