Large Diaphragm Condenser Microphone
With Dual Connect connector

Gold-plated 1" capsule

High-gain Revolution preamp

Polar pattern: Cardioid

32-Bit floating point audio

Inherent noise: 4dBA

Sensitivity: 25mV/Pa

Max. sound pressure level: 142dB SPL

Frequency response: 20 - 20,000 Hz

A/D conversion: up to 192kHz sampling rate

Integrated DSP with high-pass filter, noise gate, compressor and Aphex

Dual Connect connector: XLR3-M (analogue) and USB-C (digital)

Power supply: Phantom power (48V) or USB (5V)

Satin nickel-plated aluminium housing

Dimensions (H x D): 190 x 50 mm

Weight: 311 g

Includes SM6 microphone holder with integrated pop shield, red XLR cable (6 m), SC29 USB-C / USB-C cable (3m) and dust bag
Available since
February 2023
Switchable Polar Pattern
No
A classic mic with an integrated interface
The Rode NT1 5th Generation Silver is a large-diaphragm cardioid condenser microphone that takes the classic sound signature of the iconic NT1 and adds an integrated audio interface. The mic's polar pattern means that it primarily picks up sound coming from in front, and with a frequency response of 20Hz to 20kHz, it covers the normal range of human hearing with no loss of relevant signal information. The NT1 5th Generation can also handle a sound pressure level (SPL) of up to 142dB, making it ideal for powerful voices and loud vocals. Extremely quiet signals are also no problem, however, thanks to the NT1 5th Generation's high-gain preamp, and the mic can be supplied either by 48V phantom power or 5V USB power.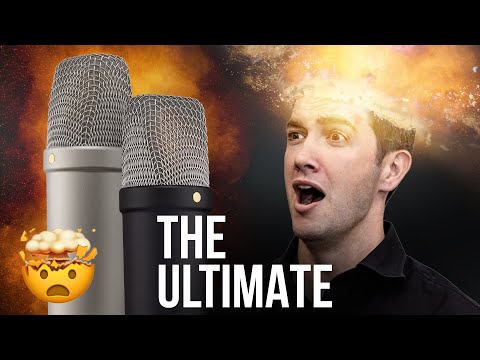 Flawless studio quality
At the heart of the Rode NT1 5th Generation Silver is a 1" gold-sputtered condenser capsule, which places this model firmly among the large-diaphragm microphones. Accordingly, both its sensitivity (at 25mV/Pa) and self-noise level (at just 4dBA) match up perfectly to the values achieved by the manufacturer's other condenser microphones. Its integrated audio interface converts analogue audio signals with a sampling frequency of up to 192kHz, while its A/D conversion with a 32-bit float digital output ensures a studio-quality digital audio signal while making clipping virtually impossible. The NT1 5th Generation can be used as both an analogue and a digital microphone thanks to the dual connection output at its base, which comprises a three-pole XLR3 connection for analogue signals and a USB-C connection for digital signals.
An all-rounder for beginners and advanced users
The Rode NT1 5th Generation Silver is not only eminently suited to recording speech and vocals: Its high maximum SPL also means that this model can also be used to record a wide range of different instruments, making it a good choice for users looking for a complete package that includes an all-round microphone. More advanced users can add the NT1 5th Generation Silver as an upgrade to their existing setup, while the scope of delivery gives those just starting out everything they need: In addition to the microphone, a suitable shock mount with an integrated pop filter for suppressing unwanted plosive sounds, a 6m XLR cable, and a 3m USB-C cable are also included.
About Rode
Founded in Sydney, Australia in 1990, Rode is a specialist in high-quality studio microphones. With its very first in-house, completely Australian-built model, the NT2 large-diaphragm microphone, the company created a classic which is still produced in its current and enhanced version, the NT2-A. An extensive range of studio and live microphones has also been added, regularly updated, and expanded over the years. These new additions include a variety of professional microphones which are designed for video and mobile applications and can be connected directly to SLR cameras or smartphones.
From vocals to podcasts to percussion
When used for vocal recordings, the Rode NT1 5th Generation Silver will capably handle everything from soft, quiet passages through to full-on Rock and Metal vocals with professional-level sound quality. Podcasters in turn can rely on this mic to capture all of the dynamics and nuances of their own speech and that of their guests, and even percussion instruments such as cajons or even melodic instruments such as guitars and pianos are no problem for the NT1. Whichever of these applications may be the order of the day, users are sure to appreciate the microphone's integrated DSP, which includes a high-pass filter and noise gate to eliminate low-end rumble and unwanted noises. What is more, the DSP also includes a compressor and the legendary APHEX Aural Exciter to allow the signal to be directly enhanced.