Effects Pedal for Electric Guitar
24 bit/96 kHz 500 millisecond IR specification offers extremely detailed amp/cab simulations

3 Matrix-modelled amplifier models based on some of the most sought-after American and British amplifiers

4 Presets (3 plus onboard favourite) with a MultiSwitch Plus (300 via MIDI)

9 Directly selectable IR cabinet models (300 via MIDI)

USB port for loading IR files and firmware updates

Load your own impulse responses with the free Strymon Impulse Manager software

Headphone connection enables silent rehearsals and latency-free monitoring

Controls: Drive, Level, Bass, Middle, Treble, Room

Switches: Amp Mode, Cab Mode

LED: Effect on, Favorite

Footswitch: Effect bypass, Favorite

Mono/Stereo input via 2 x 6.3 mm jack

Mono/Stereo output via 2 x 6.3 mm jack

EXP input

Power adapter connection: Barrel plug socket 5.5 x 2.1 mm, negative polarity inside

Power supply via 9 V DC power adapter (included)

Dimensions (W x D x H): 102 x 114 x 44 mm

Made in USA
Note: Battery operation is not supported.
Available since
October 2019
Effect Types
Amp & Cab Simulator
A Swiss army knife for guitarists
The Strymon Iridium brings together amplifier and speaker simulation in a compact package. The Californian effects company's developers have combined an analogue preamp stage and a digital impulse response processor in a single pedal. It also features cab and room simulation options, thus allowing the entire "post-guitar" signal chain to be accommodated on the player's pedalboard. Three amplifier models and nine speaker options make a wide range of sounds available instantly, and the Iridium's flexible routing options and MIDI preset control provide the proverbial icing on the cake, making this pedal a veritable Swiss army knife for guitarists.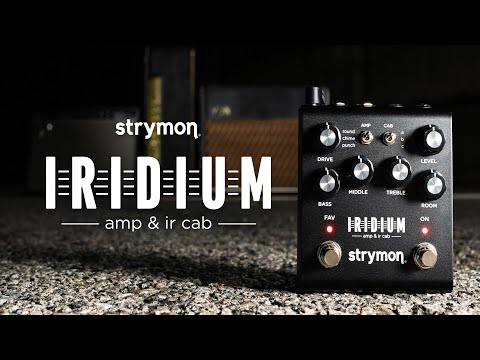 Plenty to choose from
At the core of the Strymon Iridium are three amp models that can each be combined with three speaker simulations. The "Round Amp" setting is modelled on a Fender Deluxe Reverb, the "Chime Amp" setting on a Vox AC30, and the "Punch Amp" (last but not least) on a Marshall Plexi. These three alone cover a wide palette of sounds, which is expanded even further by the speaker simulations. These have been calculated based on impulse responses and include numerous cabinets with Jensen, Celestion, and Fender speakers. What is more, the user can download their own impulse responses to the pedal. To top it all off, there are also three virtual reverb settings which provide simulations of different room sizes.
A helpful companion
Whatever the situation, the Strymon Iridium will be a helpful companion to both beginners and professionals: It lets players practise quietly at home and simplifies the recording process. Those who want to go on stage and enjoy those sounds that they have spend so much time programming at home and in the rehearsal room can also use it live, of course. The Iridium's flexibility is enhanced still further by the option of controlling different presets via a MIDI control and an additional footswitch. As you would expect from Strymon, the Iridium is designed for stereo operation. This doesn't just apply to the pedal's outputs - the input jack is also suitable for stereo connectors, so the Iridium will not leave you in the lurch if placed in front of stereo pedals in the effect chain.
About Strymon
The Californian effects pedal manufacturer Strymon was founded in 2004 under the name Damage Control and initially produced tube-driven pedals. In 2009, the name was changed to Strymon and the company began developing DSP effects, some of which have already achieved cult status. Classics such as the "Big Sky" reverb and the "Timeline" and "El Capistan" delays can be found not only on many a guitarist's pedalboard, but also thrive in recording studios. The quality of Strymon products has become a byword and today they are also being used by keyboard players and DJs alike. Strymon has firmly established a reputation for uncompromising sound and excellent workmanship.
Great in combination
There are many options for those who want to use the Strymon Iridium on stage: It can of course be run directly into the PA using a DI box, in which case the Iridium provides the necessary amp, speaker and, optionally, room simulations. Alternatively however, the Iridium can be used as a modelling preamp and its signal fed into a power amplifier and speaker cabinet. As a final option, a guitar amplifier's preamp stage (or a preamp pedal) can be fed into the Iridium so that only the latter's speaker simulation is used, thus eliminating the need to mic up any cabinets.
This is what customers who viewed this product bought