2-In/2-Out USB Audio Interface
Smartgain mode

Loopback functionality

24-Bit/96 kHz

113 dB Dynamic range, AD/DA

2 Combined mic/line inputs via XLR/jack combis

2 Mic preamps with 58 dB gain

48 V Phantom power (also during bus operation)

Discrete JFET instrument input

Independent headphone output (6.3 mm jack)

Multifunctional large rotary control with LED ring

DSP-based software mixer with flexible routing matrix

Class compliant with MAC, Windows (07/08/10), iOS

Power supply connection via USB-C

Includes a USB cable (1.5 m) and an extensive Audient ARC downloadable software package

Made by Audient
Available since
March 2020
Recording / Playback Channels
2x2
Number of S/PDIF Connectors
0
Number of ADAT Connectors
0
Numer of AES/EBU Connectors
0
Number of MADI Connectors
0
Max. sample rate (kHz)
96 kHz
Max. resolution in bit
24 bit
Connection Format
USB port Type C
Included in delivery
USB Cable(1,5 m) and Audient ARC Download-Software Package
Zero latency monitoring
1
Recording made easy
The EVO 4 is a compact 2-in/2-out USB 2.0 audio interface (USB-C) for Windows, macOS, and iOS that is aimed at creative users of all kinds and combines a stylish and minimalistic design with an innovative operating philosophy. By reducing the overall number of controls and employing a large multi-functional encoder, it offers a simple and intuitive workflow, while other features such as automatic level adjustment via Smartgain will doubtless be appreciated by beginners and more advanced users alike. The internal converters operate at resolutions of up to 24 bit/96kHz and feature a wide dynamic range of 113dB(A). The combination of two powerful and extremely low-noise microphone preamplifiers (with a gain range of 58dB) offers the requisite performance for outstanding recordings, so users looking for a compact interface with audiophile qualities will find just that in the EVO 4.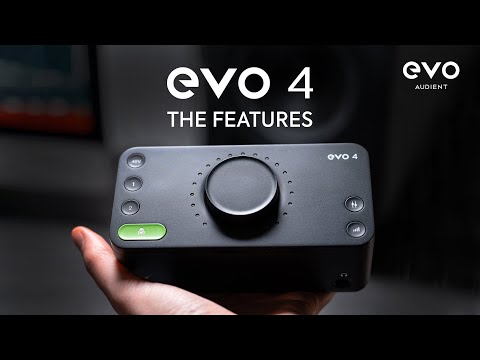 Two in, two out
The two input channels of the EVO 4 are designed as XLR/jack combo sockets and are suitable for connecting microphones as well as line-level sources such as keyboards or synthesizers. Channel one also features an additional jack socket that can be used as a high-impedance instrument input for guitars and basses, and each channel features a switchable 48V phantom power option to allow studio microphones to be used. For stereo recordings, it is very helpful that the input level of both channels can also be controlled in combination. On the output side, the EVO 4 features a balanced main output for active studio monitors as well as a powerful headphone output, with the added bonus that the former is automatically muted when headphones are connected.
A portable interface for all media creators
The EVO 4 is aimed at all users who want to create audio content and work on the move. This compact audio interface is just as well-suited to musicians, songwriters, and producers as it is to YouTubers, podcasters, and streamers - the loopback feature being particularly interesting for the latter group, since it enables the user to record the complete output signal of the EVO 4, including the connected microphones. This makes audio routing for screencasting or recording video calls much less complicated. Because the audio interface is supplied with power via USB, there is also no need to rely on mains power even when using studio microphones that require 48V phantom power.
About EVO
A spin-off from the well-established British manufacturer Audient, EVO draws on over 20 years of experience in the field of pro audio technology. EVO was launched at the NAMM 2020 and offers high-quality products with innovative features and minimalist design. With the motto "make recording easy" and a focus on ease of use and contemporary workflow techniques, EVO caters for demanding media professionals from a wide range of sectors. The first products in the manufacturer's portfolio are the two mobile USB audio interfaces EVO 4 and EVO 8.
Plug in and record
Weighing in at just 360 grams, the compact and USB-powered EVO 4 is an ideal audio interface for mobile use, and the class-compliant unit can be connected to an iPad via its USB-C port and used directly. It should be noted, however, that models with a Lightning port will require a suitable adapter as well as an active USB hub. For operation on a Mac or PC, an adapter cable for USB-A is included in the scope of delivery. The bandwidth of the USB 2.0 protocol is perfectly sufficient for working with the two input and output channels at low latency, and when using a compatible DAW software, the preamp gain can even be controlled comfortably from the computer after installing the corresponding drivers.
In the spotlight: Encoder functionality
The central control element of the EVO 4 is a large encoder that is surrounded by a ring of 19 LEDs and by default controls the output volume of the main output and the headphone output. The surrounding buttons can be used to switch the function of the control so that it either controls the input level of the channels (individually or in combination) or as a mix control to adjust the balance of inputs and DAW plaback for latency-free monitoring. When making stereo recordings, a helpful feature is that the panorama settings of the input channels can also be controlled in this way. Compared to conventional audio interface designs with dedicated controls for each individual function or a software mixer, the EVO 4 provides a clearer and more modern workflow.
This is what customers who viewed this product bought