Universal DAW Remote Control
Supports HUI and Mackie Control protocol

Suitable for studio and live applications

1 Big jog wheel

1 Touch-sensitive 100 mm motor fader

1 LC display for channel labeling

1 Assignable rotary potentiometer

34 Illuminated buttons for direct access

Connection for foot switch

Dimensions (H x W x D): 65 x 196 x 233 mm

Weight: 1.5 kg

External power supply (9 V DC)

Suitable protective cover: Art.513746 (not included)
Available since
September 2018
Footswitch connection
Yes
Foot Controller Connection
No
Additional Features
LCD-Display
Minimised interface, maximum control
The Behringer X-Touch One is a controller that supports all popular DAWs and allows complex audio software to be operated with increased speed and greater ease while ensuring a highly tactile experience for the user when creating their own sounds. This model is a good option for fans of the X-Touch models who prefer to work with a reduced number of physical controls but still require a wider range of control options than the X-Touch Mini can provide and who can also do without the X-Touch Compact's 5-pole DIN MIDI port. Despite its small footprint, the X-Touch One features a jogwheel and an LC display, and unlike many of its competitors, several of its basic functions can also be controlled using an optional footswitch if required.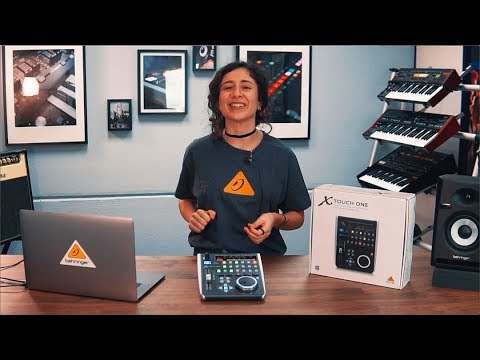 Remote control by hand or foot
The Behringer X-Touch One supports Ableton Live, Cubase, Logic Pro, Studio One, Reaper, Waveform and Pro Tools DAWs as well as both HUI and Mackie Control (MC) protocols, and the controller is supplied with a set of eleven labelled DAW templates that display the button and fader assignments for the respective software. When using the MC protocol, the user can also assign MC-specific functions to the majority of the X-Touch One's 34 buttons. The touch-sensitive 100mm fader allows the DAW's master volume to be adjusted with a high level of accuracy, and the controller's rear panel houses a USB hub, a USB MIDI port, and a 6.35mm jack input for connecting a footswitch.
Compatible with all popular DAWs
Those using the Behringer X-Touch One gain fast and direct access to all of their DAW's functions, so it goes without saying that the controller provides an optimised workflow. Home studio operators will have no problem finding space for it thanks to its footprint of just 65x196x233mm, and those just putting together their first mixing station will no doubt appreciate the X-Touch One's compatibility with such a wide range of DAWs as well as its ability to grow alongside the user's needs. Artists looking for a remote DAW control for live applications will in turn be glad of the remarkably quiet motorised faders - perfect for hushed theatre settings - and the option of securing the X-Touch One in place using the Kensington Lock on the rear panel.
About Behringer
The company, which was founded in Germany by Uli Behringer and now manufactures its products in China, has been known for affordable and great-value equipment since its very first product, the Studio Exciter F. An array of mixing consoles (such as the Eurodesk MX8000), signal processors, and later sound amplification and monitoring equipment, has made it possible for countless musicians to fit out their home studios, practice rooms, and mobile PAs within budget limits that were previously unthinkable. The acquisition of other companies, including Midas, Klark Teknik, and TC Electronic, meant that new product groups were added - and also resulted in the technical expertise of these companies being incorporated into product development.
On tour: With the X-Touch One
Among its many potential live applications, the Behringer X-Touch One can be used to integrate sounds and playback tracks composed in the user's home studio into their live performances - and if they want to check their settings one last time before the show starts, the user interface's backlit controls will be invaluable once the stage lights are dimmed. Solo artists in turn can connect a footswitch to the controller with which to start and stop the playback. And to make sure that the Behringer X-Touch One makes it from one gig to the next in perfect safety, Thomann also offers an affordable custom-designed case made from water-resistant nylon.
This is what customers who viewed this product bought