Effect pedal for electric guitar
Looper

6 Simultaneous stereo phrase tracks

9 Individually assignable footswitches and 3 pedal modes

49 Input FX and 53 track FX types, 4 of which can be used simultaneously

Time-based effects can be automatically synchronised with rhythms and loop tempo

99 Memory locations

200 Onboard rhythm patterns and 16 drum kits

USB for data backup, phrase import/export with BOSS Tone Studio and pattern import with RC Rhythm Converter

Controls: CTL 1-4 and Output Level

Push buttons: Menu, Loop, Rhythm, Tap Tempo, Exit, Enter (together: Write), Page Up/Down (together: Lock)

LED: A, B & C Rec/Play, A,B & C Stop, Track Select, Undo/Redo, all Start/Stop, round Loop Status Indicator, Rhythm, Tap Tempo

Graphic backlit LC display with 128 x 64 pixels

Footswitches: A, B & Rec/Play, A, B & C Stop, Track Select (FX: Hold), Undo/Redo (half speed), All Start/Stop (Reverse)

Power consumption: 1200 mA

Power supply via 9 V DC mains adapter (included)

Dimensions (W x D x H): 435 x 163 x 66 mm

Weight: 2.4 kg

Incl. mains adapter
Note: No battery operation possible
Connections:
Mic inputs 1 & 2: 2x XLR

Mono/stereo instrument inputs 1: 2x 6.3 mm jack

Mono/stereo instrument inputs 2: 2x 6.3 mm jack

Mono/stereo main outputs: 2x 6.3 mm jack

Mono/stereo sub outputs: 2x 6.3 mm jack

Headphone jack: 6.3 mm stereo jack

CTL 1, 2/Exp 1: 6.3 mm stereo jack

CTL 3, 4/Exp 2: 6.3 mm stereo jack

MIDI In/Out

USB type B

Mains adapter connection: Hollow female plug 5.5 x 2.1 mm - negative pole inside
Available since
February 2022
Recording time in minutes
780 m
Loopers have been a very hot item for a long time, and Boss is incontrovertibly one of the top names in this field - from simple "one-click" loopers and feature-rich twin pedals through to premium looping boards that leave no wish unfulfilled. The Boss RC-600 is the company's flagship looper and features six stereo tracks, flexible onboard controls, extensive connectivity, and a wide range of effects as well as an integrated drum machine, all packed into a robust floorboard. All of this makes the RC-600 a powerful creative tool for guitarists, singer-songwriters, multi-instrumentalists, and other looper artists who want to unrestrictedly unleash their creativity.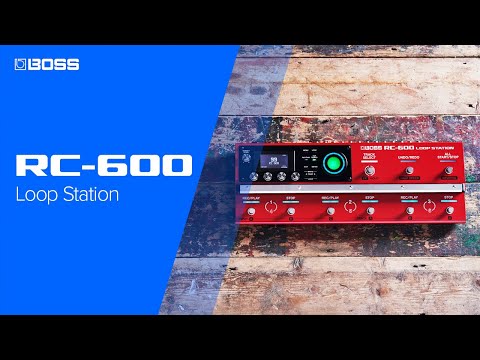 Unsurpassed flexibility
Despite the impressive wealth of features that the Boss RC-600 packs into its compact format, the manufacturer has taken care to ensure that its flagship looper still has a clear user interface. The display allows the user to maintain an overview while editing their loops and adjusting the extensive range of parameters, while the nine footswitches can also be used to perform a variety of functions, e.g. simultaneous playback of up to six stereo loops in addition to typical looper functions for recording, overdubbing, reverse, and undo/redo. A large palette of effects is additionally provided to allow the user to enhance their loops, and these include time-based effects which automatically match to the temp of the respective loop. What is more, the onboard drum machine, complete with more than 200 rhythm patterns and 16 different drumkits, opens up even more creative options for artists using the RC-600, who also have 99 memory patches to store their settings.
Connectivity without compromise
A glance at the connections located on the rear panel of the Boss RC-600 will make it immediately obvious that this is a pedal with professional aspirations. Alongside a pair of microphone inputs in XLR format, the user will also find two stereo inputs, a stereo output, two stereo sub-outputs, a headphone output, and two inputs for expression pedals and additional footswitches (all in 6.35mm jack format). Last but not least, a full-fledged MIDI interface with a five-pin input and output is also on board to allow data to be backed up, phrases imported and exported via Boss Tone Studio, and patterns imported using the RC Rhythm Converter PC software, which is available to RC-600 users free of charge via the manufacturer's website.
About Boss
The Boss brand has been an important part of the Japanese Roland Corporation since the mid-1970s and has caused a sensation from its inception, especially with its compact effect pedals but also multi-effect units and other helpful tools for guitarists. The company's single effect pedals in particular are legendary and can be found in almost every guitarist's home. An incredible 15 million have been sold to date. With its Katana series, the manufacturer now also offers excellent amplifiers at a very interesting price point.
A looper for pros who want to get creative
Thanks to the immense versatility of the Boss RC-600 looper, this flagship model is sure to capably handle any application that musicians can think of. Of course, many will find the company's more basic models sufficient for their needs, but professional users - always looking for new ways to boost their creativity - will no doubt find the answer to their prayers in the RC-600 thanks to the flame red looper board's wealth of options, extensive connectivity for both live and studio use, and compact design. And the range of possible applications is by no means confined to guitars: Anything that can be connected to one of the numerous inputs can be used in conjunction with the RC-600. It should come as no surprise, therefore, that Boss loopers enjoy such popularity among vocal artists and multi-instrumentalists as well as electronic musicians who want to use it as a creative tool.
Limitless looping
A looper can be a valuable tool for many different purposes - whether for making simple loops for more effective practice, for manipulating audio tracks, or for enhancing live performances through the creative and expressive use of effects - and the Boss RC-600 will capably handle the whole gamut of possible uses. Whether they specialise in guitar, vocal performance, DJing, or other creative disciplines, musicians can be sure that the RC-600's extensive connectivity, luxurious effects section, onboard drum machine, and both MIDI and USB compatibility will make it a versatile and efficient tool and allow them to harness a wealth of potential.
This is what customers who viewed this product bought