Active nearfield monitor
3-Way system with coaxial midrange/tweeter

Drivers: 8" woofer, 4" midrange, 1" soft dome tweeter

Power: 140 Watt (60/40/40 Watt Tri-Amped)

Frequency range: 37 - 25.000 Hz (-10 dB), 45 - 21.000 Hz (+/- 3 dB)

Maximum level: 117 dB

EQ for adjustment to the installation location

Connectors: XLR and jack 6.3 mm balanced as well as RCA unbalanced

Dimensions (H x D x W): 441 x 285 x 254 mm

Weight: 10.4 kg
available since
July 2021
Speaker size
1x 8", 1x 4", 1x 1"
Amplifier power per unit (RMS)
140 W
Analogue Input (Jack)
Yes
Analogue Input (Mini Jack)
No
Manual frequency correction
Yes
Frequency range min.
37 Hz
Frequency range max.
25000 Hz
Dimensions
419 x 254 x 280 mm
Speaker Hous8ing - Woofer System
Bassreflex
Three way monitor - two axes
The IN-8 2nd Wave active nearfield studio monitor from Kali Audio is a three-way monitor that a uses coaxial architecture for the midrange speaker and tweeter. Above the 8" woofer for bass reproduction is a 4" midrange speaker, in the middle of which is a 1" tweeter. The midrange speaker and tweeter are thus positioned on the same acoustic axis, resulting in very precise stereo imaging. On the rear panel, there is a row of DIP switches for adjustment to the acoustic environment, a volume control, and a convenient selection of inputs (XLR, TRS, RCA) and the IEC socket. The IN-8 2nd Wave measures 44.1 x 28.5 x 25.4cm and weighs 10.4kg.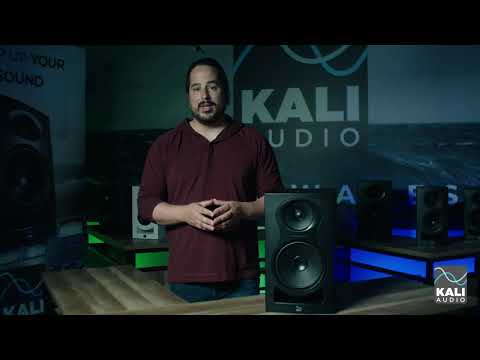 Audibly improved
The three loudspeakers of the IN-8 2nd Wave are driven by three Class D amplifiers - hence its Class D Tri-Amped classification. The woofer is supplied with 60 watts and the coaxial speakers with 40 watts each. In total, this makes a total output of 140 watts. Compared to its predecessor, the IN-8 2nd Wave has less noise and distortion. The 2nd Wave also sounds more natural without losing precision. All in all, there is an audible improvement in sound quaity, which means that you'll be able to hear subtle details in your mix with even greater precision.
A good choice for all
The coaxial arrangement of the midrange and tweeter speakers and the resulting advantages in terms of stereo imaging make the IN-8 2nd Wave from Kali Audio the perfect monitor for mixing applications and music production. In this respect, musicians, technicians, and producers of all kinds will be pleased with the absolutely fair purchase price, which makes the Kali speaker an inexpensive and absolutely worthwhile investment. The positive characteristics of these three-way monitors are not only advantageous for mixing music - all sound productions will benefit from them.
About Kali Audio
Since 2018, Kali Audio has specialised in loudspeakers and everything related to them. Although the firm is still young, it already has plenty of expertise and experience, since it was founded by passionate engineers with decades of success behind them. At Kali's headquarters in Los Angeles/California, everyone is constantly striving to develop professional and at the same time affordable products for the music world. Kali's reputation for innovation means it is a company to keep an eye on: Expect to be surprised with more exciting new products in the future!
Mix in any studio
The precise audio reproduction of the IN-8 2nd Wave makes it a recommended monitoring tool for every home, project, and professional studio. It helps to correctly assess mixing ratios, to place instruments in the mix in a targeted manner, and to clearly recognise inconsistencies. Thanks to the Class D design, DSP functions are made available to the user in a simple way: Eight different setup options are supplemented by different EQ settings with the help of the blue DIP switch section. The pictograms on the back explain the different settings in a user-friendly way.
This is what customers who viewed this product bought