2 x 4 USB-C Audio Interface
24-Bit/192 kHz AKM converters

Mic preamps (62 dB gain range, 130.5 dBu ON)

Neutrik connectors

Alps pots

Legacy "4K" switch per channel for sounds inspired by the legendary SSL 4000 series

+48 V Phantom power

5-Stage level meter for each input

MIDI input and output

2 Independently controllable headphone outputs

2 Mic/Line/Instrument inputs: combo XLR/6.3 mm

2 Monitor outputs: 6.3 mm jack, balanced

2 Line outputs: RCA

2 Stereo headphone outputs: 6.3 mm jack

MIDI input and output

USB bus-powered

Dimensions (W x H x D): 234 x 70 x 157 mm

Weight: 0.88 kg

Includes software licenses for SSL Native plug-ins (Vocalstrip 2 & Drumstrip), Ableton Live Lite, Loopcloud Samples & Hybrid Keys/Komplete Start
Available since
January 2020
Recording / Playback Channels
2x4
Number of S/PDIF Connectors
0
Number of ADAT Connectors
0
Numer of AES/EBU Connectors
0
Number of MADI Connectors
0
Max. sample rate (kHz)
192 kHz
Max. resolution in bit
24 bit
Connection Format
USB port Type C
Included in delivery
Software Licences for SSL Native PlugIns (Vocalstrip 2 & Drumstrip), Ableton Live Lite, Loopcloud Samples & Hybrid Keys / Komplete Start, USB-Kabel
Zero latency monitoring
1
"Legacy 4K"
The SSL 2+ (and the near identical SSL 2) are the first audio interfaces put to market by British giant Solid State Logic, famous worldwide for their legendary mixing consoles - the SSL 4000 series (often referred to as the "4K series") standing proudly among them. The SSL 2+ pays homage to this legacy, both in visual design (the massive blue monitor output knob is an obvious reference) and sonically, at the touch of the cryptic "Legacy 4K" switches, which colour the inputs with a certain "je-ne-sais-quoi", reminiscent of its illustrious forebear – but more about that later. The SSL 2 and 2+, though technically entry-level studio gear (with a surprisingly low price tag!), pack a serious punch and will offer the user a genuine "4K" experience.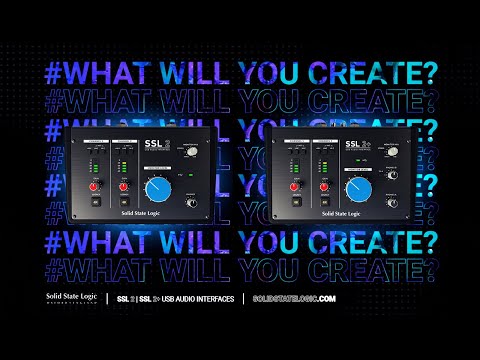 Up to eleven
The SSL2+ is a sturdy yet simple 2-in/4-out desktop audio interface fitted with two Neutrik XLR/TRS combo inputs, each of which can act either as a mic preamp (with switchable phantom power), a line input, or a high-impedance instrument input. In addition to the two main monitoring outputs (on balanced jacks), the SSL 2+ features four RCA outputs, MIDI in/out on five-pin DIN ports, two independent headphone outputs with individual volume control, and a USB-C port for power and connection to the DAW. In a nod to the movie "This Is Spinal Tap", the oversized, bright blue monitor level pot "goes up to eleven" - and is an immediate eye-catcher. There are also generously spaced knobs for mic gains, headphone outputs, and direct-monitoring (which crossfades between the analogue inputs and the USB output of the SSL 2+). Both channels also sport a five-segment LED meter to help monitor input levels, as well as large, square "Legacy 4K" buttons.
The "4K" phenomenon
As expected from SSL, the sound quality of the SSL 2+ is top notch. The specially designed mic pres are crystal clear and offer plenty of headroom, while the prominent "4K" switches trigger a circuit which boosts the high-frequency EQ and introduces subtle harmonic distortion, which according to the manufacturer provides an "analogue colour enhancement for any input source, inspired by the 4000-series console". The second independent headphone output further increases the SSL 2+'s versatility (allowing two musicians to jam, or an engineer to monitor what an artist is recording), as do the two stereo RCA outputs, which will appeal to DJs. The second RCA stereo output (3/4) can be addressed separately via DAW and now has a loopback feature. For those who don't require any MIDI connectivity or extra RCA outputs, the SSL 2 will do just fine.
About Solid State Logic
Solid State Logic (SSL), is a renowned British manufacturer of high-end mixing consoles and hardware. It was founded in 1969 by Colin Sanders and is based in Begbroke, Oxfordshire. Initially the company developed transistors to control church organs, hence the name Solid State Logic. At the end of the 1970s they made huge advances in the domain of large mixing consoles with the 4000 series which pioneered the oncoming era of the 'super' consoles. Later, the 6000 and 9000 series also proved to be a great success and are still being used in countless recording studios all over the world. In 2005, Peter Gabriel and David Engelke took a majority stake in the company and then sold it to the Audiotonix Group in 2017.
Plug & play
The SSL 2+ weighs about 800 grams, is sturdy and compact, with easily accessible pots and switches, and is USB-powered – which make it an ideal interface for a portable, laptop-based digital audio workstation (DAW). The SSL 2+ is class-compliant, meaning it does not require a driver for Mac, while SSL provides the necessary ASIO software for Windows. To get started, the SSL Production Pack software is included, which includes SSL Native PlugIns (Vocalstrip 2 & Drumstrip), Ableton Live 11 Lite, 1.5GB of Loopcloud samples, and Native Instruments Hybrid Keys & Komplete Start, among others.
This is what customers who viewed this product bought