USB-C Microphone
Condenser capsule with cardioid characteristic

Adjustable tilt function with self-locking joint

Mute button

3.5 mm stereo headphone output with volume control

Mixing control for adjustment between microphone and terminal levels

Gain control (LED ring to indicate input power and overload)

Frequency range: 20 - 18,500 Hz

Power supply: 5V, max. 200 mA

Output impedance: 16 Ohm

Compatible with Windows 10.0, macOS 10.15, Android 9.0 and iPadOS 14 or higher

Metal housing

Microphone dimensions (Ø x H):50 x 152 mm

Dimensions table base (Ø x H): 98 x 18 mm

Weight: Microphone 0.35 kg

Weight table stand: 0.06 kg

Colour: Black

Incl. table stand and 1.2 m USB-C cable
Available since
March 2023
High-quality sound, hands-on operation
The Sennheiser Profile is a USB-C powered microphone that is aimed at podcasters, streamers, and gamers and makes a convincing case in terms of sound quality as well as ease of operation and user-friendly design. Unlike many similar microphones, this model relies on hardware-based controls rather than operation via a dedicated app, which allows the user to maintain direct control of their settings even during a recording or a live transmission. The Profile can easily be combined with any DAW or streaming software and operated with MacOS, Windows, iOS, and Android without requiring any manual driver installation. The scope of delivery for the standard version shown here also includes a basic tabletop stand.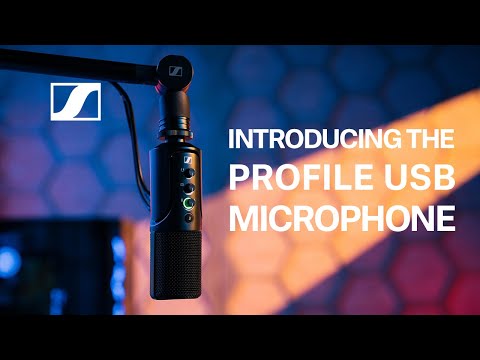 The all-in-one solution for spoken-word recordings
The Sennheiser Profile is an affordable and functional all-in-one solution for spoken-word recordings and, aside from a computer, tablet, or smartphone, can be operated without the need for any other hardware (such as an audio interface). The microphone features a 3.5mm headphone output on the rear of the housing for direct, zero-latency monitoring, while the front side houses the controls for input gain and headphone volume, as well as a mix control for balancing microphone and device level - all of which are easily accessible. A feature that will be helpful during live streams, which of course cannot be edited retrospectively, is the mute button, also located on the front of the housing. Users are also sure to appreciate the Profile's high level of build quality, which includes a robust metal housing.
Ideal for podcasters, streamers, and gamers
The Sennheiser Profile is a condenser microphone that has been designed for podcasts, live streams, gaming, and any other situations that require speech to be recorded and transmitted in high quality. The mic features a cardioid polar pattern, which means that its capture is focused on sound coming from in front of the capsule while sound coming from the sides and rear is largely suppressed, which minimises unwanted noise (e.g. from the street outside) and reduces negative effects such as echoes caused by rooms that have not been acoustically optimised. The Profile thus delivers a clear sound with plenty of presence and ensures a high level of intelligibility.
About Sennheiser
In June 1945, Prof. Fritz Sennheiser founded the Wennebostel Laboratory, which initially produced measuring equipment. Commissioned by Siemens in 1945, the young company developed the MD-1 microphone, which was launched in 1946. After the development of further microphones, the company was renamed Sennheiser Electronic in 1958. Two years later, Sennheiser introduced the MD 421 dynamic microphone, which is still in production today and still held in high esteem by many sound engineers. Further groundbreaking developments, such as the HD 414 headphones and the MD 441 microphone classic, hugely enhanced the company's international reputation, eventually making Sennheiser one of the leading manufacturers of microphone and headphone systems in the world.
Standard version, complete with table stand
The Sennheiser Profile is available in two versions: The standard version includes a basic table stand in the scope of delivery, while the Profile Streaming Set additionally includes a boom arm with integrated cable management. The standard version shown here should give users the essentialy they need for everything from basic Zoom meetings through to more complex YouTube videos. The microphone mount features a self-locking pivot joint to allow the microphone to be positioned at the desired angle and, while it may not provide the same level of positional flexibility as the boom arm, its compact design makes it portable enough to allow recordings to be made easily in all manner of different locations.
This is what customers who viewed this product bought